Monday, June 30, 2003
If you found this page through Google
This is not the most current page. For some reason, Google only likes to link to archived pages. Please click here for most recent entry.
Thank you.
HARRY POTTER AND THE PHOENIX SUNS
I'm reading this new Harry Potter book. I don't want to ruin it for anyone, but I'm only 200 pages in and they've already killed off Harry Potter. Isn't he the main character or something? Shouldn't they call off the rest of the sirius, with Harry Potter dead?
Anyway, that's all I want to say, I don't want to ruin the book for anyone. Other than Harry Potter dies, I'm not going to reveal anything.
|
THE SUICIDE PREVENTION SONG SKETCH

We're on the set of a TV variety show. There's a HOST, and a piano.

The HOST smiles at the camera.

HOST: Ladies and gentlemen, our next guest is very special. He's not just a singer/songwriter, he actually volunteers his spare time running a suicide prevention hotline. Ladies and gentlemen, Arthur Rongis.

The AUDIENCE applauds as the BAND plays a fanfare. RONGIS steps onstage. He's a confident man in his thirties, wearing a powder-blue tuxedo.

HOST: Good evening Mr. Rongis.

RONGIS: Thank you. And may I say, what an honor it is to be on your show.

HOST: Now, I understand that you've written a song specifically for anyone who's thinking of calling your hotline -

RONGIS: Actually, it's more of a song for anyone who thinks they don't need my hotline, to show them that they should call our staff of trained volunteers.

HOST: Excellent, excellent. An inspirational tune. Well, by all means, please, er -

He gestures towards the piano, and Rongis goes and takes a seat behind the piano.

HOST: Ladies and gentlemen, Arthur Rongis debuting his suicide prevention hotline song.

Rongis plays a flourish on the piano.

RONGIS: Thank you. Now sometimes we all get down and depressed. And sometimes we think we're perfectly happy. It's for all the so-called happy people that I sing this song.
(singing)
You say you're happy and you want to live,
Just sit right here and I'll give
A dozen reasons to end your life,
Let's start at the top with your wife.
A classy lady with a shoulder to cry,
She'll give up the rest if you slip her a five.
In high school she was homecoming queen,
These days she comes home to the football team.
She'll take one man, two men, three men, four men,
Two on top and two back door men.
Get behind her like the past,
She's an elevator going down fast.
But if this gets you down, remember brother,
Every guy wants a gal like dear old mother.

Talk about your job, I think you'll find,
Folks make more money on unemployment lines.
And if you think -

The Host interrupts.

HOST: Whoa whoa whoa.

RONGIS: What?

HOST: How is this supposed to keep people from wanting to kill themselves?

RONGIS: Of course they're supposed to want to kill themselves. I'm trying to drum up business. It's a commercial.

HOST: A commercial?

RONGIS: Yeah, it ends with:
(a capella)
So if you've heard this song and want to go to Heaven
Call 1-900 KILL ME 7.

HOST: A nine-hundred number?

RONGIS: $2.95 the first minute, only ninety-nine cents each additional minute.

HOST: You're charging people for a suicide hotline?

RONGIS: I've got to eat, don't I?

The Audience starts booing.

HOST: Arthur Rongis, ladies and gentlemen. And may I say that I feel just terrible, I had no idea -

RONGIS: If you feel really bad (singing) just call 1 900 -

A STAGEHAND drags him off.



|
Friday, June 27, 2003
A SPECIAL MOMENT WITH PRESIDENT BUSH
A moment after Bush "negotiates"
Halliburton's presence in post-war Iraq.
He "negotiated" seven Board
members at once.
|
FUN WITH THE GOOGLE IMAGE SEARCH
Thanks to
Chloe
for this one.
When you do a
Google image search for the word "Lame,"
ths is the first picture that comes up:
Yes, that is Morrissey.
|
I'M WILLING TO SAY WHAT NO ONE ELSE WANTS TO ADMIT
I watched American Idol for the first time last week.

It's a fucking karaoke contest. Nothing more, nothing less.
Just people competing to see who can be the karaoke champion of America.

I think this is an awesome idea. In fact, I think that FOX should make a contest out of every obnoxious thing that drunk people do in bars:

* "America's Creepiest Come-On Line That Occurs Just After He's Been Staring At You Across the Bar For Twenty Minutes"
* "Projectile-Puking Championsip USA"
* "The I-Forget-Half-The-Words-of-This-Song Jukebox Sing-Along Contest"
* "Ironman Boring Conversation About Some Accountant's Job 500"
* "Try Not To Miss The Porcelain While the Room Spins-athon"
* "Loud Racial Slur Classic"
* "The Pro/Am Drunken Makeout with Someone You Hate"



|
A JOKE I AM PROUD/ASHAMED OF
I love music. In fact I wanted to see the Strokes, but I hear Luther Vandross isn't touring.

You're welcome.



|
Wednesday, June 25, 2003
GOT HIT BY THE TRAINING
A couple of days ago, I was forced to watch training videos for WalMart and Sears.

Why are these training videos always the worst-made little films you'll ever see? Seriously, they're so choppy and boring and amateurish, you expect to see the words "Starring Jim Belushi" in the opening credits.

Aren't the Waltons - the family who own Wal-Mart - the five richest people in the world? You'd think they could afford to drop a couple grand, maybe get a commercial production company and some professional actors. Especially when you consider who these videos are supposed to train; WalMart employees. I mean, if you've ever dealt with these people - yes, I'm sure many of them are bright and personable and very good conversationalists, but some of them can barely follow a bright light with their eyes, let alone a fifteen minute presentation on the best and most effecient ways to stack paper towels.

Maybe, and I realize this is a crazy suggestion, but maybe training videos should be done by porn companies. I mean, you'd still have the same amateurish execution of production and acting, but at least you can guarantee that the employees would watch it all the way through. Here's a sample script:

INT. CHECKOUT LINE
A TRAINER - a platinum blonde with large breasts - is helping EMPLOYEE, a young guy, stack purchase items in a plastic shopping bag.

EMPLOYEE: And the heavier items go in the bottom of the bag?
TRAINER: Yes. See how much easier it is to carry when the purchase items are properly stacked?
EMPLOYEE: Speaking of things that are properly stacked ...
TRAINER: I'm so horny now!
TRAINER takes off her clothes.

In fact, if they made these films my way, WalMart could make back the costs of producing this film by charging its employess to see it. I bet they'd make a fortune.



|
THEY SAY YOU SHOULD NEVER GO SHOPPING WHEN YOU'RE HUNGRY BECAUSE YOU'LL BUY TOO MUCH STUFF
And they're right. The other morning I went shopping before breakfast and I came home with a car.
GUEST WRITER:
Slippy Slapwell, Vegas comedian
Harry Potter, huh? Lemme tell ya, if they want to see a boy wizard, they should watch how my son Tommy makes all the food in the house disappear. HEY!
He sure made the best years of my life disappear. Ba da boom!
but seriously, folks, I don't want to say Tommy was a mistake, but when the Stork came to our house i thought it was the THanksgiving turkey come too early. Of course, the turkey turned out to be my son. My wife says I came too ewarly. Oof!
That's probably why she left me. Wowza! That and the alcoholism. But if I was going to stay married to that bag, I was going to need a stiff one. A bunch of stiff ones. Down in the bathhouse in Chelsea. Barrabound!
You can catch Slippy at the Mocha Lounge in Rattlehead, NV, sixty miles outside of sunny Las Vegas.
|
Tuesday, June 24, 2003
ROCK THE VOTE
vOTE FOR ME
as the band that puts on the best live show in the world
. (Look, I'm a comedian, not a band, and you probably haven't seen me perform live. But how funny would it be if I got a tremendous write-in vote and blew the Gallagher Brothers out of the water?)
Just
click here
, then click "other" and write in "Liam McEneaney."
|
WHICH ONE IS "WEIRD" AL AND WHICH ONE IS TINY TIM?
Can
you
tell your novelty music artists apart?
(Answers tomorrow.)
A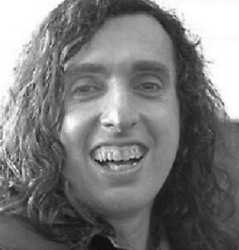 B
|
LIL' SNEAKER
I bought new sneakers at the Sports Authority. And the woman taking my money said, "Can I have your phone number?"

Why does the Sports Authority need my phone number? I'm just imagining the owner is some kind of lonely old man drunk-dialing people at three in the morning:

"Hi. I see you bought some sneakers from my store. You like Reeboks? I like Reeboks too. My wife used to like Reeboks. Do you want to hang out? We can rent the movie Sneakers with Paul Newman. I like Newman's Own Popcorn. And it goes to a good cause. So you own a dog? Would you like one? I can buy a dog for you. I own SPorts Authority, I can do any damn thing I want. I could kill a man and get away with it. Seriously, do you want me to kill someoen for you? Just say the word. At SPorts Authority, you aren't just a customer you're a member of the family. And I would kill for my family. Like if you ever touch my daughter, I will kill you you son of a bitch you hear me? I'm going to rip your fucking throat out if you don't marry her. That's it, I'm coming over there."

Creepy.



|
BEN CASEY, WMD
So it looks like those weapons of mass destruction are no longer in Iraq, but are now in Syria.

It's more like they're a band going on a world tour:

"Fresh from their engagement in Iraq, it's the Weapons of Mass Destruction World Tour '03! Two trailers full of biochemical mayhem! Coming soon to Iran, Egypt, Saudi Arabia, and the Meadowlands! With their opening act - Nuclear Mayhem! Sunday SUnday Sunday. See Bigfoot crush nitro-burning funny cars!"



|
Monday, June 23, 2003
CLOSE ENCOUNTERS OF THE "WEIRD" KIND
Who would have thought that my little entry about novelty-music king "Weird" Al Yankovic would have touched a chord? I got an outpouring of (one) e-mail about "Weird" Al.
This story about an encounter with "Weird" Al comes from
The Human Torch
. Flame on Jonny!
Here is the story about how "Weird" Al stole my seat at the bar:

I was living in Kalamazoo, Michigan. "Weird" Al plays Kalamazoo every time he tours because he can sell out a thousand-seat theater and because he can put "Kalamazoo" on his tour itinerary, which is probably really amusing to him.

Whenever "Weird" Al plays in Kalamazoo he goes down to the big rock club, Club Soda, to hang out. One night he was in town when my friends' band was playing at Soda. I had a seat at the bar because I'd shown up before the place got crowded. Seating at Club Soda sucks it, so I was pretty amped about having a seat. At one point I went next door to order a pizza from the pizza place. My friend saved my seat for me.

Half an hour later, when I was getting ready to go next door to pick up my pizza, "Weird" Al showed up. I walked past him as he came in the door. When I returned not two minutes later, I found "Weird" Al sitting on my stool at the bar. My friend had not saved my seat. I swore vengeance on "Weird" Al, but haven't really been sufficiently angry enough to exact it. I moved away from Kalamazoo six months later, a bitter taste still in my mouth.


If you have a "Weird" Al story of your own, send it to me at mceneaneyl@aol.com
|
Friday, June 20, 2003
|
AM I A BAD PERSON?
I was talking to some friends about a woman we know with an eating disorder, and all I could think was, "Man I wish I had that kind of will power."

LET ME TELL YOU 'BOUT WOMEN SON
They all say they want love poems, but when I gave Cheryl her this "Limerick About Why I Love You," she didn't seem grateful AT ALL.

LIMERICK ABOUT WHY I LOVE YOU
by Liam McEneaney

There once was a woman named Cheryl,
Whose eyes were black and shiny like beryl.
Her voice, like music mild,
Drove me wild like a child,
Who'd been raised by the wolves to be feral.



|
Thursday, June 19, 2003
VOTE FOR ME
As Rolling Stone's "Band that puts on the best live show.
Seriously,
click here
, then enter my name in the "Other" field. Let's see how many votes I can get!
|
"WEIRD AL"
There's a "Weird" Al Yankovic concert coming up, and a friend of mine was trying to convince me that I should go.
ME: No.
FRIEND: Come on, you'll meet so many chicks there!

Okay, here's my questions in two parts:
A) Exactly what kind of woman would voluntarily go to a "Weird" Al concert, and
B) Why would I want to meet any of them?

I mean, I have so many problems just talking to women I don't know in the first place, what would I say to these theoretical women (and at a "Weird" Al concert, they would be very theoretical)?

"Hey, so, uh, you think he sold out to the rap market with Amish Paradise'? 'Cause I think 'Weird' Al is a studio gangsta. Yeah, he sold out after Eat It in my opinion. I used to like him when he was doing Another One Rides the Bus on his accordion. So you want to see my adult retainer?"

I mean, "Weird" Al is the music you listened to in high school when girls wouldn't talk to you and you weren't sophisticated enough for Monty Python and the Holy Grail.

Let's face it, you're not going to get laid at a "Weird" Al concert unless your name is "Weird" Al.

I CAN't BAG ON "WEIRD" AL TOO MUCH
At least he's kept true to his vision all these years. He's on e of the few artists from the '80s who never tried to do an "adult" project, you know, to show that he matured and didn't give a rat's ass what the public thought of him (think Vanilla Ice's last album, which was a return to his "punk roots." Unless the Iceman has naturally green hair, I don't think he has punk roots).

But if he did, here's what it would be:

"WEIRD" AL YANKOVIC
"Gay-Trix Reloaded"

* The Real Slim Jim Lady
* Ode on a Grecian Urinal
* Daffodildos
* Flight of the Anal Intruder
* Eat It (Dust Brothers "FU" Remix)
* Poon Tang Clan Ain't Nuthin' to F*** Wit'
* Gay-trix Reloaded
* Sodomized With a Red-Hot Polka



|
Wednesday, June 18, 2003
IT'S WEIRD
People assume that I'm a frat-boy type because I definitely was built to be a frat boy.

But I am nothing like htose guys, except that I also like to have sex with unconscious sorority girls.

That's right, an inappropriate ad lib onstage becomes a creepy joke on my blog - and you were there!

THE H-WORD
White people are not allowed to use the N-word. Not that I want to. In fact, I think it's weird when I hear white guys complain, "Man, I'm not allowed to use the n-word, but black guys use it all the time!"
I don't personally have a huge burning desire to use that word, dude. Relax. You'll be able to say it all you want at your next Klan rally.

But there's not comparable word for white people that gets them really angry. Like, nothing that just sets them off the way the N-word does with black people. And that's because white people enjoy being ethnically slurred.

Like if you call a white guy "honky," he'll just laugh and start telling his friends, "Dude, that guy called me a honky! That's awesome. Maybe i'm a jive turkey as well."

I asked a friend of mine why stupid names set him off, and he said, "Because that's all you white people gave us."



|
Tuesday, June 17, 2003
CAPTION THE MOMENT
TOM RIDGE MAKES SWEET,
SWEET LOVE TO A BOOK
AS HIS MOM LOOKS ON
|
I DON'T HAVE THAT MUCH FUNNY TO SAY TODAY

But I am doing an awesome show tonight. Hosted by Andres DuBouchet, here's the skinny:

"NYC's best comedy-variety show (Cumbersome Title division)."
-- Time Out New York

GIANT TUESDAY NIGHT
OF AMAZING INVENTIONS
AND ALSO THERE IS A GAME!!!

8pm tonight
at The St. Marks Theater
94 St. Marks Place between 1 & A
$5 tickets at the door or on smarttix.com

Tonight, six-time Boliviguayan Entertainer of the Year Francisco
Guglioni is pleased to welcome:

Liam McEneaney (Premium Blend)
Singer and Saw (Genuienly excellent saw/opera combo)
The Irwin Smalls Trio (Michael Bernard, Adam Felber and Jay
Oakes)
Tom Shillue (Premium Blend, Late Night w/ Conan O'Brien)

PLUS Jonny Fido, Michael Reisman, and music from...

KISS!!!! (Mike Birch, Eric Chercover and Randy Soare)


|
Monday, June 16, 2003
|
MY GRANDMOTHER
still uses the phrase "don't spend it all in one place" whenever she gives me money.
I'm like, "Gee grandma, you're right. I'd better not blow through this entire dollar all at once. I'd better save some for penny candy and malteds down at Pop's Shoppe."

It would be awesome if your boss told you that every time he gave you your paycheck.

STORES IN MY NEIGHBORHOOD THAT HAVE CLOSED RECENTLY
Tony's Tattoos
The Scuba Diving store (will now be a Subway)
Red Lobster (will now be an Applebee's)
Hollywood Lanes Bowling Alley



|
Song from Tom Lehrer

Send the Marines

When someone makes a move
Of which we don't approve,
Who is it that always intervenes?
U.N. and O.A.S.,
They have their place, I guess,
But first - send the Marines!

We'll send them all we've got,
John Wayne and Randolph Scott;
Remember those exciting fighting scenes?
To the shores of Tripoli,
But not to Mississippoli,
What do we do? We send the Marines!

For might makes right,
And till they've seen the light,
They've got to be protected,
All their rights respected,
Till somebody we like can be elected.

Members of the corps
All hate the thought of war;
They'd rather kill them off by peaceful means.
Stop calling it aggression,
Ooh, we hate that expression!
We only want the world to know
That we support the status quo.
They love us everywhere we go,
So when in doubt,
Send the Marines!



|
Sunday, June 15, 2003
I WENT TO THE REMOTE LOUNGE A FEW NIGHTS AGO
And I think I answered the question, "Why don't women talk to me?"
"Anyone got any spare change?"
"Yes, officer, the bodies are in the basement."
|
Friday, June 13, 2003
THE SEGWAY WAS LATER ARRESTED BY SECRET SERVICE AGENTS, AND THE GIRL'S BIKE SENT TO GUANTANEMO BAY
Picture 1: "Don't worry Mr. President, these Segways are guaranteed idiot-proof."
Picture 2: "D'oh!"
Picture 3: "No, please don't break your neck. NOT PRESIDENT CHENEY!!!!"
Picture 4: "Run away, that vicious bike is gonna kill everyone!"
|
HUGS AND DRUGS

A coupe of days ago, I placed an ad on Craig's List.
Here it is reprinted below:

Reply to: anon-12264664@craigslist.org
Date: 2003-06-10, 11:47AM

Ever feel just down or tired or depressed? Sad and lonely? Put upon or put out?

Maybe you just got dumped. Maybe you just dumped someone.

Maybe you just haven't been hugged in a while.

I will give you a hug for five dollars. (Please note, I am looking to get paid. I don't want to pay someone else five dollars to hug me.)

They say do what you love and the money will follow. Well I love giving hugs. And I love getting hus. And I'm hoping the money will follow - in this specific instance, five dollars will follow me from your wallet or purse.

So if you need a hug, drop me a line, and we'll see what we can set up.

My problem - apparently, every response was from some dude assuming I'm a young woman. Here are some of the replies I got:

I - "DECENT SET OF BREASTS"

I'm always bummed out because I have no friends and no girlfriend. I would love some human contact in the form of a tight hug. I love those hugs even more if the hug-giver has a decent set of breasts;-) (lecherous wink). Seriously, though, I could part with a few fivers for a series of hugs. Get back to me.
- "Father Winter"

Liam Sez: First of all, this guy has no girlfriend? What a complete and utter nonshock that is. Of course he would love "human contact." I suspect that the closest he gets most days is when the UPS guy comes to deliver his latest Battlestar Galactica figurines eBay purchase.
I'm also sure he loves any hug that involves firm breasts other than the ones he deveoped from sitting in his parents' basement watching Red Dwarf reruns and eating a dozen Krispy Kreme donuts at a time.
By the way, there's no need to add the phrase "lecherous wink" after saying you want a hug with a decent pair of breasts. I'm not going to assume that you meant that in a completely suave, innocent way.

II - "I WAS IN TWO MOVIES"
My name is Wayne. I'm a doctor and professor of medicine. I work in Manhattan and am at my office right now. I have a couch that will do us just fine. I am 40 years old, brown hair (the little I have), almond shaped brown eyes, am well endowed (~9inches) and in pretty good shape. I'm looking for some fun and sensuality. In my younger days, I was in 2 movies, and have
been told that I'm great in bed by numerous ladies.

I'd like to hook-up tonight.

- Wayne

Liam Sez: Wow, I didn't know that Wayne Rogers is a doctor now!
I would love to know what movies this guy was in. On the one hand, I am kind of impressed that even now he's still trying to use that to get laid. On the the other hand, he's using it to try to impress someone who is offering five dollar hugs. Hugs.
Unless he
a) Meant that his arms are nine inches, thereby making hugs a rare treat for him or
b) He can hug you waround the waist with his nine inch thang, I don't think he read this as carefully as he might.

And he's been told that he's "good in bed by numerous ladies." I bet those conversations go something like this:
"How was I?"
"Uh, Wayne, you were uh - "
"I'm pretty good, huh?"
"Yeah you're great."
"You sure?"
"Uh, why would I lie to you?"
"I was in two movie you know."
"Look, can I get my hundred bucks now?"

So let's get a mental picture of this guy in the classroom where he teaches medicine:
Balding. In "pretty good shape," which most likely means "I have a beer belly." He walks around the community college classroom, teeaching health. He hands back papers, staring too hard at a pretty freshman, whom he tells he's going to need to see after class in his office.
He sits her on the couch. To his utter surprise, he finds that life is not like porno movies, so he chloroforms her and ends up leaving her in Jersey City.

III - "COMPARISON SHOPPING"
"You sound very nice for thinking of doing this. I'm interested but hfirst I would like to know how long is this hug? Can I kiss you to on your neck while I hug?
- "The Best

Liam Sez: If you start kissing me on the back of the neck, the hug will last about six seconds.


Wow, people sure expect a lot out of a five dollar hug.
AND THE MORAL OF THIS STORY: I will never ever try to date online.



|
Thursday, June 12, 2003
SPECIAL MESSAGE FROM PRESIDENT BUSH
"This old thing? Don't worry, we'll be
gettin' rid of it."
|
Tomorrow: Responses to my Craig's List "hugs" ad. What kind of responses did I get? Read this space tomorrow for answers! (HINT: the Internet just might be full of creepy people!)

A NOTE FOR THE LADIES WHO WILL SOMEDAY DATE ME:
I'm already a tortured soul. No need to torture me any further.

HIFI STEREOTYPES
There are these stereotypes about all different kinds of ethnic groups.
And it makes me mad because not only are these untrue generalizations, but they're so old and boring.
That's why I've decided to go ahead and create my own untrue ethnic stereotypes. So please read below and use these as your new guidelines:

White people - Can't stop eating corn.
Black people - Their children are taking all the best spelling bee spots.
Jews - Killed Lawrence Welk.
Chinese - Have innate ability to play the banjo.
Japanese - Control the price of the world's potting soil.
Koreans - Big fans of those Smokey & the Bandit movies.
Hispanic - Crazy into canoeing; spend all their time on their whitewater rafting skills.
French - Assholes.
Germans - Their national anthem is an Oklahoman used car dealership jingle.
Italians - Apply unwanted backrubs in bars.
Irish - Make their children wear too much makeup.
Scottish - Irishmen in false beards and plaid skirts.
Indians - Live in large Snoopy-style doghouses.
Arabs - Sing loudly in public no matter who's around.
Russians - Consider the penguin to be a sacred animal.

APOCALYPSE WOW!
I saw Apocalypse Now for the first time recently. I got to see it in a theatre on the big screen.

First of all, Vietnam seemed like a blast. There was rock music, Playboy bunnies, water-skiing and surfing, booze and drugs. It seemed like a really good party, only with Dennis Hopper and slightly less casualties.

That movie really drew me in and affected me. In fact, I woke up this morning with flashbacks to it.

The weird thing is that the movie has several layers of metaphor. It's a metaphor for the Vietnam War, in that it was a nightmarish descent into insanity, in a war that was muddled and had no clear sides, no beginning and no end, no good guys and no bad guys.
On the other hand, this means that the Vietnam War itself was an allegory for Coppola's movie Jack.



|
Wednesday, June 11, 2003
NOW A SPECIAL MESSAGE FROM DICK CHENEY
"Come to the Dark Side.
It is your . . . destiny."
|
SPIKE LEE VS. SPIKE TV

Auteur Spike Lee is accusing cable station Spike TV of ripping off his persona to get viewers.

I was incredulous until I saw Spike TV's ad campaign:
"Media the Jews don't control."

I think someone owes Lee an apology.



|
Tuesday, June 10, 2003
I'M DOING A FREE SHOW
In Manhattan tomorrow night (Wednesday)
at 10 pm at Otto's Shrunken Head Tiki Bar and Lounge (formerly Barmacy) located on 14th Street between Avenues A and B (closer to B)
And it's free.



|
MY NEW SERVICE
I will hug you for five dollars.
For more info,
click here
.
|
NERD'S THE WORD
When you're a nerd and you find out that - hey, Rennaisance Faires ain't gettin' me laid, what do you do?
That's right, you learn guitar and form a cover band.
And it's funny to watch these guys do their thing onstage, because they writhe and do all the moves that the original singer that they're covering did because they know that this is their last-ditch one-in-a-million chance to get women to talk to them. So they get all pretentious and take themselves way too seriously.
Which is why the ultimate experience is to watch a Doors cover band. Because the original Jim Morrison was a dork who wrote bad poetry and took himself too seriously, so watching a guy cover Jim Morrison and take it to the next level - it's nerdiness squared. It goes beyond the Nerd Event Horizon.
Doors cover band in action
By the way, scientists theorize that the Nerd Event Horizon, which is the edge before you get sucked into a black hole of Utter Geekiness, that's where the Dork Matter that makes up the universe is contained. If you understood that last sentence, then you and I should form a Weird Al cover band (we can call ourselves "Eat It, the Weird Al Tribute Band").
|
Monday, June 09, 2003
I was on the L train into Williamsburg a couple of weeks ago. I hate Williamsburg. I hate hipsters. And I hate being in Williamsburg doing shows to entertain hipsters. I call them the WilliamsBorg; all these nasty trust-fund kids dressed almost exactly alike, each with their own shitty sub-Strokes band (the big thing used to be American folk music. I prefer they ape the Strokes; the WilliamsBorg and the Strokes deserve each other), each with a hilariously ironic and arch attitude towards people who actually have to work for a living.

But I was riding the L train to host a comedy show; a show whose audience was to feature several "modern dancers" and "sculptors." In fact, one woman told me that her latest sculpture was a chair made to look like a giant vagina. Nice. I'm sure that's how she makes her money.

On the L train, there was the living embodiment of every hipster I've always hated. He was wearing a foam Bethlehem Steel cap (because people who have to work for a living are funny), under which you could see that his curly, golden hair was cut in an ironic mullet. He was wearing a matching faded denim jeans-and-jacket ensemble. Dangling from his belt was a big chain. He was wearing new hundred dollar sneakers and reading Rolling Stone magazine.

I was wondering why I was getting so angry; after all, he was an asshole, but this city's full of assholes of every stripe and pedigree. Why was I was getting enraged? Why was I taking this so personally? Then I realized; he was doing ironically what people I grew up with were doing sincerely, because the people I grew up with in Queens didn't have the benefit of going right from Brown University to forming a band without having to worry about intermediary steps like working a day job. I grew up with the genuine working class, blue-collar scumbags.

And this made me think of Jesse. Jesse Lawrence*, my best friend in grade school. At the time I had no idea, but Jesse's family was the epitome of white trash. Jesse's mom was the single mother of three children. Two daughters, one son, two dogs, all lived in a house on Wetherole Street. She also lived with Jesse's aunt, not related by blood. Since there was only a certain amount of room, Jesse's mom and aunt shared a bed. This did not strike me as odd for many, many years. Several things about that family would not strike me as odd for many, many years.

It was Jesse and his sisters' jobs to walk the dogs. None of them wanted to do it, and so the dogs would just pee on the kitchen floor. Soon the whole house smelled of dog. In the summer time, Jesse would go through the sprinklers in the local playground and smell strongly of dog.

Jesse and I had much in common. We both loved the movies Ghostbusters and The Karate Kid. Since my parents had taped both (using a monstrously large VCR that I think had a nuclear reactor, it was that old and primitive) from HBO, many was the day we would come over to my house and watch them. Then we would run out into the street and act out scenes from both movies. James loved movies even more than I did; whenever we would see a movie, we'd leave the theater and he'd say, "Remember when the guy threw the other guy over the cliff?" And I'd say, "Yes, I was there too, remember?"

And then he would say, "Oh yeah. But remember - ?" And so on.

We both had older sisters going through puberty. And let me tell you, if you have an older sister going through puberty, then you need a support group way more than any recovering alcoholic. I'd rather live with a werewolf than go through that again. He had a younger sister who had a crush on me. I very suavely dealt with that awkwardness by alternately ignoring her and making fun of her. Although it's now a full 17 years later, I still deal with women in exactly the same way.

Jesse was into sports, which I had no use for. In fact, our only common ground was the NY Mets. But he would get me to play football, and actually taught me the rudiments of the game. We played He-Man, GI Joe, A-Team, the Goonies, Ghostbusters, and whatever other games the media had invented so we didn't have to think. One of our favorite games was to take these rubber wrestling dolls (like the Iron Sheik, Hulk Hogan, Rowdy Roddy Piper) that he owned and throw them into a tree in his backyard. If they got stuck in the tree, then that was good. Then you'd have to throw other wrestling figures at the one stuck in the tree until it fell out. Or until, as happened one day, all the figures got stuck in the tree and Jesse's Aunt Karen* had to knock them down with a broom.

1986 was a good year. The Mets won the World Series against the Red Sox, which if you grew up in Queens, was something you could never forget. (It's also something you can guarantee will never be forgotten in Boston, but that's a story for someoen else's blog.) The Mets are in many ways Queens' team; hard-luck losers, underdogs, constantly basking in the shadow of their older and nastier siblings, the New York Yankees. Often disregarded. And in recent years, it's where baseball legends (Vaughn, Alomar) go to watch their careers die.

But every once in a while, the Mets will really pull it off. And in '86 they had to work for it. I still remember staying up to watch this absurdly long ( innings) playoff game against the Astros. The World Series went to nine games, and you weren't sure if the Mets were going to win, or if the Red Sox were actually going to pull it off. But the Mets won. And I was in a Cub Scout troop (with James), and we all became Webelos, and then earned the Arrow of Light. And as soon as we all were officially Boy Scouts, the troop disbanded and we all quit and we never went forward with it again.

But I do remember our Cub Scout camping trip that fall, listening to Mets games surreptitiously on someone's Walkman/radio after we were all supposed to have gone to sleep.

That's neither here nor there, and I apologize for rambling. We were each others' refuge, confidants. We shared that deep platonic love that young boys have; pondering the deeper mysteries of girls and sex and what it all means.

I should have known there were odd doings at the Lawrence household. Once, a bunch of us kids were hanging out (we'd pool our money and buy a shitload of candy from the corner candy store, or a pizza pie from Tony's on Queens Boulevard), and the topic of gay men came up. We were all using our vast pools of experience as 10 year-olds to puzzle out the answer to this question: "How did gay men have sex?" Jesse told us that since women put on fake plastic penises to have sex with each other, maybe gay men strapped on fake vaginas. That sounded as good as any other theory we'd had.

Once I was catsitting for a woman in the neighborhood who was out-of-town for a month. And you know what? If you give an eleven year-old the keys to your apartment and tell him that he has unlimited access, then you deserve everything you get. Actually, it was pretty awesome; it was air-conditioned, so I would go over and hang out all day and watch TV (especially WKRP in Cincinatti, which seemed to be on in endless reruns that year). I also invited Jesse over several times, and the first time he came over we went through her apartment looking for porn (she did have a Joy of Sex book, but we had no idea what to make of it; it was too boring and had too many words to be porn, but it was too dirty to be a regular book. Still, the idea of sex on a trapeze has stuck with me for most of my life).

At one point, Jesse went through her closet, telling me that "all women have fake penises in their closet." I didn't think that odd, even though I was pretty sure my mom didn't have one. And by the way, I have no desire to confimr or deny that. Another time, he described an ejaculation scene from a porn movie pretty accurately. It was horrifiying and I refused to believe him.

That was the cat-sitting job, by the way, that got me in a lot of trouble. Not because I was going through the woman's stuff, I'm pretty sure she didn't catch onto that. But I didn't know that you were supposed to throw old cat food cans out. That, combined with my rather lassez-fair attitude towards cleaning out the cat box created a mighty powerful aroma for her return. Also, she had these popcorn kernels (this was years before everyone had microwaves in their house), and I wanted to make popcorn. So I thought it would be an incredibly good idea to make popcorn in her tea kettle. After all, you use that to cook on a stove top like any other pan, right? Plus, it would be really neat to see popcorn streaming out of the tea kettle.

Well, I clearly knew nothing about cooking; I certainly didn't know enough to put oil on the bottom of a pan when you're cooking something. The result was a bunch of burnt kernels and pieces of popcorn in her teapot, much of it stuck to the bottom. The result was that I had ruined her teapot. Also, I remember having all her mail in my pocket running through a sprinkler in the playground.

Jesse's mom was into some shady business. Jesse' younger brother was the product of a loving union with a fellow college day-student, whom his mom bragged she'd gotten pregnant by so he would be stuck with child-support. ALthoguh she never worked a steady job, Jesse's mom owned a house, and had cable (something of a luxury then). She was overwieght and had a huge rack. One time she had something particularly funny written on the front of her t-shirt, and I was so shy I couldn't read it no matter how much she told me I should because I would get a kick out of it.

Jesse and I had a rocky relationship; it wasn't all roses. Oftentimes, he and I would hang out with other kids, and we'd all gang up on Jesse and make fun of his being less-than-bright. I remember vivdly hanging out in The Alley; an alley across the street from my apartment, behind a building where our friend Enrique's* dad was the super. We were all laughing at Jesse, telling him that he was a homo sapien until he ran home crying.

I had a friend Paul*, a boy two years older who lived down the street. His grandfather was the super in my building. I knew a lot of supers' sons in my day. Paul lived in a ground-floor apartment, which meant it had two doors; one that led into the building and one that led into the street. If you wlaked in through the street entrance, you passed a gumball machine which was incredibly neat. Paul also has a Nintendo machine. He loved the Monkees, and I remember several Saturday mornings at his place watching Monkees reruns.

Paul's parents were going through a rough patch; the one time I slept over at his apartment, we heard them screaming at each other for over an hour. I guess Paul and Jesse bonded, both being the product of either a broken or soon-to-be-broken home. At first I would bring Jesse over to play, and I would hooked into playing Super Mario Brothers. They would let me play for as long as I wanted while they went into the other rooms and played different games with each other. After that, they became really close friends for a while.

I remember distinctly a couple of times dropping by Paul's place to play and finding Jesse hanging out there already. I would get jealous, because I knew that they were playing around behind my back. But I also found that if you love someone, you can't ever own or control them, or you would be sure to kill it. So I said nothing. This was a lesson that would serve me well with a few future girlfriends, by the way.

Eventually, Jesse and Paul broke up; Paul was heading off to Junior High School, and pretty soon he had a girlfriend. We were secretly envious; his girlfriend was a pretty redhead, and I think that that's all Jesse and I really wanted in the end. In fact, we started watching a show called Degrassi Junior High. now I realize that Degrassi was about a realistic dpeiction of junior high the way that General Hospital is about being a realistic depiciton of life in a hospital.

But at the time, it was very exciting; sluts who would kiss you, or even have sex with you! Excitement! Adventure! Near-death experiences that were way more exciting than anything we'd experienced as children! (Not true by the way. Our real life was full of adventures. Like the teenage satanists we met on the Long Island Railroad tracks, or the building super Enrique's father had had a problem with, so we spent the day tormenting him, which culminated in being cornered in my building's laundry room by this super and big scary dog while he yelled at us. None of us cried, though, except for Juan* another super's kid, and even then not that much, so that was a point of pride afterwards.)

The summer before junior high, Jesse changed. We were in the same summer program, and a popular game was "Truth or Dare." Actually, it should have just been called "Who's Going to Be Forced to Kiss Each Other Next?" I was not into that game at all; as an extremely fat kid, I knew the odds that any girl would be into kissing me if she wasn't forced to, and I didn't want to have to deal with that.

Jesse clearly had a crush on this one girl, and he maneuvered the game so that she was kissing him a lot. He got increasingly frustrated when she would rather talk to me most other times (I don't believe that she found me attractive, but since I knew better than to hit on her - she was rather cute - I'm sure she just felt safer around me), and this made him angry.

Also, he apparently decided I wan't "cool" enough to be his best friend any more. After all, I was a slightly insane fat kid who smeleld because he was afraid to admit that he needed to use deodorant (I had a lot of hang-ups). He decided that Junior High was going to be the year that he made a whole new group of "cool" friends. I remember calling him many times in the days leading up to Junior High, to see when we were going to meet up so we could make the big walk to Forest Hills and Russell Sage JHS 190 together. Each and every time I called, his mom would tell me he was in the shower and unable to talk.

I ended up walking to Junior High alone. It was scary. It was sad. It was the next six years of my academic career summed up in a metaphorical nutshell. Junior HIgh was sad. In grade school, the big joke among the girls was that I had "cooties," and you should avoid me. One girl tried reviving that, but then they just settled for ignoring me. By the way ladies, you can stop now.

Half a year later, the plan hadn't worked out that well, and Jesse approached me in a stairway trying to talk to me. I iced him. By the summer, he and his family had moved out of state and I never heard from him again. I'm sure that there's a trail of creditors who would love to know where that family went as much as I.

Jesse was a good friend; he could have been more popular in grade school if he didn't hang out with me so much (I was pretty much the School Weirdo wherever I went). He was loyal, and always a little sad, and if he wasn't as smart as me; he had a much bigger heart. If I have any "finer" qualities, it's because I learned by his example. And yes, his family wasn't :rich," he probably didn't go to some fancy art school or Ivy League, and whatever did happen to him in this life, I can guarantee he most definitely doesn't have an overpriced loft off of his grandparents' trust fund while his subStrokes band plans its next EP.

But I would trade him for all of the obnoxious Williamsburghers and then some, because poor or not, white trash or not, he was true gentleman.


*Names changed to prevent unfortunate Google searches.



|
Posting in five minutes

|
Thursday, June 05, 2003
PETE & RE-PETE
Ever have one of those friends who always gets you involved in a shady situation?
I have a friend named Shady Pete. And he always has some amazing get-rich-quick scheme, but for some reason the process of getting-rich-quick always seems to start with me lending him forty bucks.

Abd he's earned the name "Shady Pete" from his explanations of where the money's going. I can never remember his stories, but they always start with "So I know this guy," and always includes the phrase, "of course, either way you get your money back."

He once approached me for some money, and I was buying myself a drink with a fifty so I couldn't pretend I didn't have it on me.

PETE: Liam, I have to borrow twenty bucks.

LIAM: What happened to that twenty I lent you last week?

PETE: I thought it was a gift.

LIAM: No, it was a loan. You said I'd get it back two days later.

PETE: Oh hey, sorry. See, I met this guy.

LIAM I don't want to hear the story, Pete. I'm just not lending you another twenty bucks. Look, you keep the last twenty bucks all right? Consider it a gift from me to you.

PETE: Hey, don't be like that. Look, I'm going to do you a huge favor.

LIAM: You're going to give me my twenty bucks back?

PETE: Even better. Do you want to see how I can turn your twenty into forty right now?

LIAM: No. I want my money back

PETE: Trust me. Check this out: you lent me twenty bucks right?

LIAM: Yeah.

PETE: Great, so lend me another twenty.

LIAM: No.

PETE: Come on, I'm going to turn it into forty.

LIAM: Are you going to bet on the horses?

PETE: No, of course not.

LIAM: So this doesn't involve gambling at all? Or a get-rich-quick sheme?

PETE: No, it's a simple trick anyone can do.

LIAM: Okay, here's twenty.

PETE: Great. Now you remember what happened the last time you lent me twenty bucks?

LIAM: Of course, I never got it back.

PETE: And do you expect me to pay this next twenty off?

LIAM: Well -

PETE: Honestly.

LIAM: Honestly, no. I'll probably get my baby teeth back before I get that twenty bucks.

PETE: Right, so since you've already written off this next twenty as a loss, it's like it no longer exists, right?

LIAM: Of course it exists, it's in your hand.

PETE: But you don't expect me to pay it back, right?

LIAM: No.

PETE: And I probably won't want to pay you back, right?

LIAM: Probably.

PETE: So if you don't expect it back, and I don't expect to give back, then ipso facto it's gone, it doesn't exist.

LIAM: But -

PETE: Now I'm going to do you a favor and lend you this new twenty.

LIAM: It's the same twenty.

PETE: Same twenty as what?

LIAM: As the last twenty I just gave you.

PETE: But we agreed that that twenty doesn't exist anymore, so this must be a new twenty.

LIAM: Okay.

PETE: So take this twenty -

LIAM: I don't need twenty -

PETE: Trust me. I'm showing you how to turn it into forty bucks, remember?

LIAM: Okay.

PETE: Great, now lend me twenty bucks.

LIAM: But you just lent me twenty bucks.

PETE: Right, now lend me twenty bucks.

LIAM: Okay. Here.

PETE: Thanks.

LIAM: But that's still twenty bucks.

PETE: What's still twenty bucks?

LIAM: The twenty bucks I just gave you.

PETE: There is no twenty bucks.

LIAM: But I just lent you -

PETE: Right, but we agreed that when you lend me twenty bucks it no longer exists, right?

LIAM: Right.

PETE: Great.

LIAM: Okay.

PETE: By the way, can I get my twenty bucks back?

LIAM: What twenty bucks?

PETE: The twenty bucks I just lent you.

LIAM: But that was my twenty bucks.

PETE: Oh come on Liam, don't be like that.

LIAM: Be like what?

PETE: Come on, I lent you twenty bucks and I need it back.

LIAM: But -

PETE: I'm serious.

LIAM: But -

PETE: My twenty bucks?

LIAM: Okay, here's your twenty bucks.

PETE: And see? Now that twenty you lent me became forty.

LIAM: But that's my . . .

PETE: See how easy that was?
(He walks away.)

LIAM: Wait a second!




|
Wednesday, June 04, 2003
GUT MILK
I don't understand people who go by their "gut instinct." Who do what their "gut tells them."

The only thing my gut ever tells me is, "It's time to eat chocolate cake."

I'm not saying it's always wrong, I'm just saying it isn't always helpful.



|
A FEW OF MY FAVORITE THINGS
I like these guys who ask questions that are their own answer.
Like a guy actually asked me the other day, "Why can't I meet a woman who'll just have sex with me and then cook breakfast?"
Maybe it's because you're the kind of guy who expects a woman to just have sex with him and then cook breakfast. At least pretend to not be an asshole.

Or, "Why don't I get any respect around here?"
Because no one respects a jerk who whines about not getting any respect.



|
Monday, June 02, 2003
THE ROCK n' ROLL CRITIC
by Chip "Goose" Sestrom,
Lead singer/guitarist for Manic Upswing
Handsome Johnny and the Three Day Eternity
"Time To Spare"
(Polydor)
Handsome Johnny and the Three Day Eternity, I played with those guys like five years ago. They were opening for us at this shitty little bar in Buffalo, I forget the name, "Sneaky Pete's" or something. I remember watching this band, waiting to go on, and thinking, "Wow these guys suck. They'll never get anywhere." And now they have a deal with Polydor. I guess I could get a deal with Polydor too, if I was willing to suck some A&R guy's dick.

Bub the Zombie
"Dana Platonium"
(Epic)
I remember when Terry, lead singer for Bub the Zombie, told me they were going to open for White Stripes on the Southern leg of their '02 tour, I told him, "Don't fucking sell out, dude. Don't throw away all the underground cred you guys have been building up for the last few years."
I told him how Dinosaur Jr. wanted Manic Upswing to open for them in '94 and we said, "Now way. Go fuck yourselves." Or rather, I did. The rest of the group went to our manager behind our back and said they would do it. So I kicked them all out of the band and got a new group together. They formed a new band toured with Dinosaur Jr. They released three albums before disbanding. I hate to say I told you guys so, but there you go. And don't think you can come crawling back to me now to try to get back into the Upswing. I bet those "shitty little one-night gigs" seem pretty sweet, huh Gary?
Anyway, Terry ignored my advice, and now his band's got this album on Epic, and it sucks. It sounds like all the other mainstream crap being released these days. Seriously, the guy's a real fag.
Rent-A-Wreck
"Journey of the Whills"
(Elektra)
Fuck this nerd-rock bullshit. Basically, Flansburgh - the cocksmoker from They Might Be Giants - discovered these guys a while ago and got them a deal with his label. Janice, my manager at Starbucks, plays this shit all the time. I tried to tell her that the Upswing blew these guys out of the water at Kenny's Castaways once, but she just kind of rolled her eyes. Screw her. The other day she tried to make me wear a long-sleeve shirt to cover my "DEATH 4 ALL" tattoo. I told her, "Hey, you want a fag barrista, just go hire at the Big Cup." The Big Cup is that gay coffee shop on 8th Avenue.
Yankee My Wankee
"I Accuse My Parents!"
(Arista)
These guys are on Arista. That's hilarious. I remember when they wanted to be the next Gods of Hardcore. Too bad they've got about as much integrity as Yanni.
Frankie, the bass player, used to be in the Upswing, actually. Then he accused me of skimming money from when we toured the southeast in '99. Actually, the whole band accused me of skimming. Anyway, between that and me fucking his girlfriend, he was pretty sore (literally. I gave her herpes, hee hee) and went off and joined Wankee. Hey Frankie, your new band sucks. Your record sucks. And your ex-girlfriend sucks; she stole like four hundred dollars worth of stereo equipment from me. And she also sucks literally, hee hee.
Control/Alt/Delete
"Heavens to Murgatroyd"
(RAMJAC)
Ramon Hilford and Jack Miscue have self-released a kick-ass new album. None of that major-label bullshit for these guys, they take the three chords that God gave them and run with them. This reminds me a lot of a cross between Iggy Stooge and Gary Glitter. These guys not only kick major ass, but they owe me a couple beers. I definitely recommend this one.
Manic Upswing will be playing CB's Gallery (313 Bowery, basement) next Thursday at 7:00, on a bill with Dead For Taxes, Barely 18, and The Alones.
|