Tuesday, September 30, 2003
QUEER NOTION
There's this show called Queer Eye For the Straight Guy, and it's a big hit. Basically, the premise of the show is that they follow gay guys around doing what gay guys supposedly do best; fashion.

Since TV's all about ripping off the hot new idea, someoen's going to make a lot of money on a variation on the show.

That guy is me.

Presenting my newest genius big show idea:
Straight Eye for the Fart Joke.



|
BADVERTISING
I worked at an ad agency for over 47 years.
My specialty was designing ad campaigns that would lose companies money, so they could write them off for tax purposes. Here are some of my worst:

* VOLKSWAGON: Buy a Volkswagon - It's what Hitler would have wanted

* COLT .45: When you need something to apologize for the next morning

* ABC: When you can't find the damn remote

* HANES BRAND JOCKSTRAPS: They're Testacular!

* COMEDY CENTRAL: Three hours of programming repeated eight times a day

* TOSTITOS GUCAMOLE-FLAVORED CORN CHIPS: What the hell, you're high anyway.

* THE CHURCH OF JESUS CHRIST AND LATTER-DAY SAINTS: What the hell, you're high anyway.

* MAXIM: This'll do until you're old enough for real porn.



|
Monday, September 29, 2003
THE MORE THINGS CHANGE, THE MORE THEY STAY THE SAME
Except diapers.

FREE TRANSLATION GUIDE FOR AMERICANS GOING ABROAD
(book excerpt)

Sure, all those different countries are full of foreigners who gabble at each other in those fakey jibber-jabber languages.

But now, my handy translation guide will let you speak any language like a foreigner in literally minutes. I guarantee that Johnny Notfromamerica will have a look of surprise and shock when you communicate these thoughts:

ENGLISH: Where is the bathroom?
SPANISH: EXCUSE ME? WHERE IS EL BANO?

ENGLISH: Is there a McDonald's nearby?
SPANISH: Dear God, enough of this bull testicle food. WHERE IS McDONALD'S? YOU KNOW - SENOR RONALD CLOWN-O?

ENGLISH: Excuse me, miss, would you care to go on a date?
SPANISH: YO BABY. SENORA, TEN DOLLARS AMERICAN. GOOD TIME, YES?

ENGLISH: Yes, I am an American, why do you ask?
SPANISH: *BURP*




|
Saturday, September 27, 2003
THANK GOD FOR THE JEWS*
Without the Jewish New Year, the NY Daily News would only be able to print its favorite "BLOODY NEW YEAR" headline once a year.

* I guess I should say "Thank G-d." I guess I'm giving myself something else to atone for.



|
Friday, September 26, 2003
YESTERDAY'S BLOG ENTRY
I have already received around 150 applications for
this job.
|
HOW TO END A CONVERSATION
We've all been at a party where you're trapped in a terrible conversation; endless, dull, awful. Here are some of my techniques to not only guarantee that you will get out of these conversations quickly and easily, but never be forced to engage in another conversation again:

The Joke
The easiest way to end a conversation is to tell a joke. But it's important to know what kind of joke to tell.
Now sure, a racist or sexist joke, when told in the right company, can end a conversation quickly. but the best kind of joke to tell in a bad conversation is the rambling, confused joke. The kind of joke your elderly, senile aunt might tell you at a family reunion.

EXAMPLE OF A CONVERSATION-ENDING JOKE:
"Okay, so there's these two priests and they enter a bar. I think one of them's Irish, and the other one is - Jewish. Right, a rabbi. Not a priest. Sorry. So they enter the bar, and the bartender is - I told you the bartender was Scottish, right? Well he is. So the Scottish bartender, Angus, he looks at the priest adn the rabbi and - I think there was a nun? Or a Hun? Does that make sense? Yeah, a Hun, like Attila. I think the joke is that he took out his sword, no wait it's definitely a nun. I remember because my friend Frank told me this joke after we saw this documentary about an order of nuns. No, not a documentary, a comedy. Anyway, so there's an Irish priest, a Jewish rabbi, and a nun, I don't know maybe just white, and she says, do you serve nuns? And the bartender says, 'Lady we'll serve anyone with five bucks'. Wait, I think I got that wrong..."

It doesn't matter if you ever bother to get the joke right; your conversational partner will have ditched you somewhere around "The bartender was Scottish." If your partner is exceptionally patient and/or masochistic, tell the joke exactly the same way a second time, followed by a loud laugh and the disclaimer, "I guess you had to be there."
Social scientists have yet to locate the mysterious spot you had to be in order to find a bad joke funny, but leading theorists have it approximately twenty feet under the North Pole.

The "Accidental" Insult
If you don't mind burning your bridges with the person you're talking to, if you're looking to never speak to them again, the best way to end a conversation is to pretend you don't recognize them and start complaining about them behind their back to their face:

YOU: God, I hate these parties.
VICTIM: I know what you mean.
YOU: I mean, you meet so many just boring, awful people at these kind of parties.
VICTIM: Oh really?
YOU: Yes, like the last party I went to, I met an awful, awful man. I think his name was John Rutherfoord. He was in accounting.
VICTIM: That was me.
YOU: I thought you looked familiar.

the Public Embarassment Technique
Another good way to get your conversational adversary out of your hair is to place him in the public spotlight, preferably in a way designed to force him to make as public a spectacle of himself as possible:

YOU: Say, you look like Tony Bennett. Anyone ever tell you that?
VICTIM: No.
YOU: Sure you do. Around the eyes. Do you sing?
VICTIM: No, I don't.
YOU: Oh come on. I bet you can sing "I Left My Heart in San Francisco."
VICTIM: I really don't -
YOU: Sure you can. (at the top of your lungs) Hey everybody, check this out. This guy not only looks like Tony Bennett, but he says he sings like Tony Bennett.
PARTY-GOER 1: I didn't know you sing, John.
VICTIM: I don't...
YOU: Come on John, sing "I Left My Heart In San Francisco."
PARTYGOERS: Yeah. Come on. Sing John.
VICTIM (off-key): I left my heart -
YOU: ooh, ouch. I guess you left your voice in San Francisco too.
ALL: (all laugh)
VICTIM: I will kill you.

Just Be Rude
Sure, plain rudeness isn't the most creative resort, but sometimes it's necessary ro just be direct and to the point. Like an emergency brake on a train, a simple rude statement can bring any bad conversation to a screaming halt. Witness these examples:

#1: The Life Story
YOU: How's the plumbing business?
VICTIM: Actually, I just ordered a gross of seven yard copper -
YOU: Jesus, I didn't ask for your life story.
Conversation over. And you can be guaranteed that you will never have to hear about the plumbing business again.

#2: The Ol' Switcheroo
VICTIM: . . . and that's when I decided to go to graduate school.
YOU: Wow, you know what's really interesting about that story?
VICTIM: No, what?
YOU: You either, huh? I was hoping you could tell me.
BAM! You're like graduate school on a snow day, college boy - no class.

#3: The Gross-Out
VICTIM: So I checked under the hood, and sure enough I'd completely forgotten to remove the dipstick...
YOU: Jesus, did you just fart?
VICTIM: No.
YOU: Oh, it must have been me then.
Of course, you can combine this with the "Public Embarassment" technique:

VICTIM: So I checked under the hood, and sure enough I'd completely forgotten to remove the dipstick...
YOU: Jesus, did you just fart?
VICTIM: No.
YOU: Sure you did.
VICTIM: I can assure you that I -
YOU: Come on, we're all adults here. You can admit you farted. (to the rest of the party) Hey everyone, it's all right that John just farted right?
ALL: (general groans of disgust)
YOU: Oh, I guess not.
VICTIM: Excuse me while I kill myself now.
YOU: Oh come on, it was just a joke.
(sound of gunshot from other room as Victim kills himself)
YOU: I guess he had to be there.




|
Thursday, September 25, 2003
HOW BAD IS THE ECONOMY UNDER BUSH?
I posted an ad on Craig's List for what was literally the most shit job I could think of.
Here it is.
I posted it ten minutes ago, and in that time I've already gotten three responses.
All of three them were from guys who seemed willing to fake an enthusiasm for sifting through other peoples' shit. I suspect I will get many more over the next day or so, all of whom will be vying for the most humiliating job I could think of outside telemarketing.
I'm not sure yet whether this is hilarious or not. Keep reading this space for updates.
|
LAD MAG
I have some jokes in the brand new issue of Drill magazine, which is basically Maxim for military guys.

So next time you're at your local canteen, commissary, or Wal-Mart, pick up a copy.

I like to think that in some small way, I'm helping a soldier over in Iraq wack off tonight.



|
FREE TICKETS
I got free tickets to see the Mets play tonight. This is my summer of free tickets.

And, having learned from my free Dylan tickets experience, I should warn the East Coast: expect another huge blackout around 6:30pm tonight.

I've got Field Boxtickets, so look for me to get punched out by Jose Reyes after one too many taunts.



|
Wednesday, September 24, 2003
|
I HAVE A CRUSH ON YOU
Will you go out with me?
(check one)

_ YES

_ NO

_ LOL! GOOD ONE!

_ IN MY COUNTRY THIS MEANS WE ARE ALREADY MARRIED

_ OKAY, BUT ACCORDING TO MY WOMEN'S STUDIES CLASS: KISSING = RAPE, HAND-HOLDING = RAPE, EYE CONTACT = RAPE, BEING MALE = RAPE

_ LET'S DO THAT 8-MINUTE DATING THING. YOU HAVE THREE MINUTES LEFT

_ LET'S NOT RUIN OUR FRIENDSHIP WITH DATING. LET'S RUIN IT WITH REJECTION!

_ I'M NOT SURE, DO YOU MEAN "GO OUT WITH YOU" LIKE WHEN SOLDIERS IN BAD WAR MOVIES SAY "WELL, IF WE'RE GOING TO GO OUT LET'S GO OUT IN A BLAZE OF GLORY"? OR DO YOU MEAN "ON A DATE"? ALTHOUGH IT WOULD BE NICE IF A DATE ENDED IN A BLAZE OF GLORY. IF YOU BRING A MACHINE GUN, I'M IN

_ SORRY, BUT I'M CELIBATE. AS OF THE BEGINNING OF YOUR QUESTION



|
I'M NOT GAY
But I would like a boyfriend.

I just want someone to take me out to dinner.

And then hit me because I talk too loud during the Super Bowl.

ZING!



|
SHRINKY-DRINK
I don't have a drinking "problem."

My drinking falls into that grey zone where I drink enough that my behaviour annoys my friends, but not enough that I can actually go to an AA meeting.

It takes a lot to impress the people at AA:
"What, you slept with a guy? What is this, amatuer hour? Come back when you plow into a schoolbus. A schoolbus full of puppies that s!"

Note to my mom: I have never gotten so drunk that I had sex with a guy.



|
Tuesday, September 23, 2003
B-RATED
There's a
guy on the Internet
who rates comedians he's seen on Comedy Central.
Apparently I'm a mediocre comic at best.
I've decided to start tailoring my act for this guy, so I looked at all the subjects of the jokes of the comedians he liked best, and I've decided to write jokes about them. Hopefully, by the time I have a half-hour special, I'll be ready for a coveted "55 laughs."
"Canadian army and flag"
- Canadians complain that the USA doesn't take them seriously enough. Maybe they should look at their flag - it has a Maple Leaf on it. You know who else has a flag with a Maple Leaf? The summer camp I went to, and the NYC Parks Department. Their flag sends a message to the world, and that message is: "Hey, come for the swimming, the walks through the forest, and the good times."
"poo"
- Wow, I sure wish I could flush nerdy, obsessive websites down the toilet like you can other forms of poo.
"Jerry Fowell"
- I'm not sure what this is, a chicken?
"horse/college"
- People talk about "horse sense." Well, if horses have so much sense, why don't they go to colleges? It would give a whole different meaning to getting "plowed" at a frat party.
|
HERE'S A WARNING FELLAS
I stopped by a woman's shelter the other day.
Apparently, it's nothing like an animal shelter.
They will not let you take a woman home with you, even if you promise to pay for their shots.

I guess my problem is that I'm into smart women; women who are smart enough to know to have nothing to do with me.

My litmus test is if a woman is into me, then I know somthing's seriously wrong enough with her that I can't date her.



|
Monday, September 22, 2003
MESSAGE FROM AL GORE
"Fly me to the moon - how ya doin' folks? - past Jupiter and Mars - try the veal - Ba ba ba ba boom - Who's celebrating an anniversary? - da da da da da..."
|
I'M IN TERRIBLE SHAPE
Sorry to disillusion you ladies who imagined me as some sort of Adonis that walks the Earth, but it's true.

In fact, I'm on a diet. And this is why the rest of the world hates the USA. Because half the world is starving, and then you have a guy like me who's like, "I can't stop eating food. If only there were less food around me, I'd be so much happier!"

Americans spend billions of dollars on diet plans and gyms just so they can look like starving third-world villagers.

The thing is, I'm in terrible shape for the USA. If I were in some starving African village, I'd be in great shape. My neighbors would be like, "Is Liam up to 240 pounds? How does he do it? He must be eating three meals a day! How can he afford that?"

In fact, in this country, not only do we have fried food restaurants every block, but they have drive through windows so the fattest, laziest members of our society don't have to make the effort of actually wlaking into KFC or McDonald's. Who thought of that?

"Man, I am wedged in tight behind this steering wheel. Ifo nly there was some way to avoid the stress of standing upright for more than three minutes."

All right, this isn't funny. It's just self-righteous ranting.



|
Saturday, September 20, 2003
OH GREAT
Now
it's summer.
Just saw my friend
Ivan
perform for kids at a Lower East Side street fair.
|
Friday, September 19, 2003
HE FELL HAIR TO A FORTUNE
I got my hair cut for one reason: money.
I've been looking for a day gig, and it occurred to me that the average job interview would go a lot smoother if I didn't look like I'd just spent the night in the parking lot of the 7-11, buying cigarettes and wine coolers for the local high school kids.

Now, the day that I decided to get my hair cut, I had two interviews in the afternoon, which meant I couldn't just go into Manhattan and try to get a haircut at the Astor Place Barbershop. Astor Place Barber is great if you enjoy the thrill of Vegas-style gambling, but don't want to walk out having lost more than fifteen bucks (if you tip, you cheapskate!).

CURRENT ODDS AT ASTOR PLACE BARBER:
Odds that you will get a good haircut: 50-50
That at noon your barber will have already started drinking: 20-80
That your barber is a middle-aged Eastern European fella with a huge belly who will repeatedly rub against you in what can only be described as an "inappropriate manner": 80-20
That your barber will get caught up in a soccer match on TV and forget that you are there: 10-90

So I decided to try one of my local barbershop establishments, or as they like to call themselves, "UNISEX SALONS."

Rego Park, Queens - the neighborhood I live in - likes to consider itself the cutting edge of the early '90s. We have a half-hearted Internet cafe up Queens Boulevard, only because it has to add that Rego Park poor-man's-version-of-everything touch, it's in the basement of a party supply store.

We have several Thai restaurants. We even had a tattoo parlour for a few years. No word yeto n whether an overrated indie rock scene has taken hold, although a "cool" bar/nightclub called the Tropix Bar is opening up on the Bouylevard soon.

The first place I stopped into, there was one man on duty. Advances may come and advances may go, the world may soldier on into a new millenium, the order of the world may break down as moral codes crumble around us, but Queens adheres to one strict rule: MEN CUT MEN'S HAIR.

The guy on duty had red-rimmed eyes, and was exclaming very angrily to the women who worked the Beeper/Cell Phone/Jewelry counters - did I mention this barber shop had cell-phone and jewelry counters? - about something in Russian. I walked out.

A VERY IMPORTANT HAIRSTYLE TIP
Never let anyone cut your hair angry.

I ended up going to a UNISEX SALON on Queens Boulevard. Men's haircuts there are five dollars, but if you want scissors it's seven.

I was a little worried, because I enjoy keeping my hair long, and so I wanted a trin with the same hair style but a few inches shorter. And I wasn't sure if a middle-aged Russian dude in a barber shop on Queens Boulevard where everyone walks out with what I refer to as "courthouse haircuts" - ie, the short hairstyle favored by the wannabe young lawyers at the Queens County Court House on Union Turnpike - would "get it."

I explained to the guy what I wanted. He said, "Sure you want couple inches trim but same style."
I said Yes.
"So I cut hair so it's over ears."
Yes.

Fifteen minutes later, I have the same exact Young Republican hairstyle that everyone else who walks out of there has.

So if you want a picture of Old Liam with Long Hair, e-mail me at McEneaneyL@aol.com.
Otherwise, come out to a show and laugh at me in my new Just-Started-My-Junior-Year-of-Accounting-School 'do.



|
Thursday, September 18, 2003
GUNG WHAAA?
I saw the movie
Gung Ho
again the other day.
I don't think the movie itself is funny,. but I get a kick out of it because I know that the movie started life as a pitch from a screenwriter to a roomful of movie executives:
"Okay, so there's this American company, right? They're a car factory. And these dirty Japanese come in and try to make them all 'effecient' and 'work hard' and other unAmerican crap. So the workers finally stand up for themselves and say, 'Hey, we've fought hard for the right to be lazy and inefficient and show up drunk at work and we're not going to take it any more! And in the stirring finale, they show that good old American know-how can make the same car half as well as the Japanese method in only twice the time. Now give me half a million dollars."
|
CORRECTION

Dear sir,

In yesterday's "comedy" entry, you stated that we at the Yale Tennis Club didn't start admitting "off-white" people until 1934.

In truth, we have never admitted anyone who is not purest white stock.

Thanking you in advance for your correction,

August VanderDoork
Yale Tennis Club,
President



|
Wednesday, September 17, 2003
THIS DAY IN HISTORY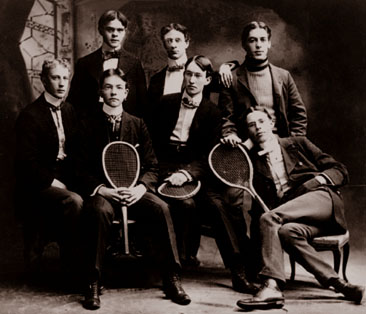 September 17, 1934
The Yale Tennis Club becomes one of the first Ivy League sporting clubs to integrate, allowing a "slightly off-white gentleman" by the name of Austin Vanderpark (middle, back row) to join.
Vanderpark, who it turned out had merely been lightly tanned during a vacation in the South of France, applauded the Club's "courage in allowing a near-member of a minority community such as myself to join their esteemed rank."
After Vanderpark's tan wore off, he was allowed to shower in the Club's main facilities, use their "Whites Only" water fountain, and travel on their team bus to matches.
|
I KNOW I MIGHT COME OFF AS "BRAGGING" HERE...
But I used to date a model.

Well, a model prisoner.

But how could I refuse when he tossed me a line like, "I wouldn't trade you for twenty packs of Kools."

Actually, I think I should start looking for women in those prison pen-pal programs. Because that way I can indulge my fear of commitment and make a horrible mistake all at the same time.



|
Tuesday, September 16, 2003
WHEN IRISH GUYS ARE SMILING
People say the Irish are mean drunks.
I've met very few Irish who are mean drunks.

I've met plenty who are mean sober...

LIVERDANCE - LOL!
I like the Irish culture, especially the music. Because the Irish are totally in denial about what their music is about.

I enjoy going to Irish music shows and hearing things like this:
"This is a tender love ballad that I learned from my mother when I was a child. I think it really sums up beautifully the experience of love:
Oh I was in love with a beautiful girl,
Till I saw her being excorted by an Earl,
So I shot her dead she's no longer in this world,
And I'm wearin' her guts for garters.
Ta ra ra ra la lee, ta ra ra la lee... etc."

GUY-RISH MOVIES
I love Irish movies because, no matter what the movie is or what it's about, it always has this same exact scene about 42 minutes in:

"Jimmy - ye feckin' crazy drenk bastard ya! What the feck do ye think yer doin' ya? I know yer me bruther, but get the fook outter me pub!"
And scene



|
Monday, September 15, 2003
BOY THOSE IRAQIS ARE DUMB
They don't know that we won the war. Like months ago. Don't they watch CNN? We won!
And now Bush wants billions of dollars to rebuild Iraq. Problem is, he wants the money to rebuild a country that doesn't want us there. That's like asking a bank for a loan to rebuild someone else's house:
"Mr. McEneaney, before we give you this six hundred thousand dollar loan, we'd really like to see your deed to the
Museum of Natural History
. In fact, we'd love to get invited over for dinner some time."
Meanwhile, enjoy this link
to a story about how "The 9-11 Comedy Slam" went horribly, horribly awry.
(It's a show where a bunch of lower east side "performance artists" decided to celebrate 9-11 by beating up a fireman. Start at the bottom of the page and work your way up.)
|
Friday, September 12, 2003
HAPPY OPPOSITE DAY
I think it's interesting when someone says a phrase and tghen follows it with a statement that means the exact opposite. Like:

* I'm not a racist, but... It's usually starts a sentence like, "I'm not racist but Koreans control the waether with their brains."
I'm like dude, first of all, everyone knows that's the Jews. Second of all, what would you think if you were a racist?

* Believe me, I know a lot about women... Then they give you advice like, "And what chicks dig is getting sucker-punched, 'cause they like surprises."

I had one guy tell me "the ultimate pick-up line," which was, "I'm gonna kill you. Because you're too cute for this world."
THat's brilliant - first you scare her, then you really creep her out. Maybe you should flash a knife so she knows you're not all talk.

* Trust me... I've never gotten trustworthy advice after this phrase. It's always like, "Trust me, pit bulls only attack if you act scared," or "Trust me, I can perform an appendectomy as well as so-called 'licensed' doctor."

* And the ultimate phrase: Trust me, I'm no racist but I know black chicks... and they like it when you call them your "bitch-ass ho."



|
Thursday, September 11, 2003
IF YOU ENJOY ANGRY RAMBLING...

I was just watching the 9/11 ceremony, where relatives of the dead recite the list of those who died in the Trade Center. I made it to the Bs before I couldn't take it any more.

It's been two years and it still makes me sick with grief.

The thing that makes me sicker, though, is that the Bush administration has turned this awful tragedy into its calling card, its logo, its excuse for every piece of petty chicanery that it's pulled or tried to pull all over the world, at home and abroad.

Supposing that Don King promoted his next fight by saying that the souls of a million dead slaves demanded justice through blood-letting. Imagine a man using the Holocaust to sell used cars. Imagine a man using the angry souls of every man, woman, or child who had been murdered on a dark street corner as an excuse to hunt his enemies down and kill them on the pretext that they may have had a connection to the killers.

We would be aghast. We would be appalled. We would be mortified. The backs of every decent human being would be turned to these opportunists, these snake oil salesmen, these wholesale dealers in commercial justice.

And yet we allow the Bush administration to do this every day.

John Ashcroft wants to tear down the walls that protect American citizens from the prying eyes of the government, and because he does it in the names of the murdered 3000, no one says a word in protest.

The President declares war against a country without the resources to ever be of any harm to us, and because he does it in the name of possibly also striking those who have a connection to the people who attacked us, not one of our lawmakers raises a voice in dissent.

Our President wears the death-shroud of the murdered 3000 as a costume, to be discarded when it's of no use. His party plans to use this city as a backdrop next year, plans to throw its convention on the third anniversary of the attacks. A costume party with the heady theme of rich red blood, of anger and betrayal.

And each politician will come dressed as a somber, sacred patriot. As a man who cares more about the souls of the departed than the venal sins of the flesh. This couldn't be more sick and degraded if they actually wore the skins of the dead; to cover the decaying flesh of their cowardice, of their opportunism, to hide the fact that each rots inside. And you can smell it every time they open their mouths to speak; the smell of decay, a decay of the heart and a shrivelling of the guts, each with the skin of their soul stripped away until there's nothing left but gleaming, sword-edged skeletons, clacking sharp teeth and rattling coins in their empty eye sockets.

And each speaker at this convention will stand behind a podium and declare themselves patriots and patron-saints and warrior-kings of the world. And each will tell you what they have accomplished, will speak it clearly and honestly from their own mouths, in each word they utter: Nothing.

They will say nothing, for they have done nothing.

They have thrown money and men and women at a war that con not be won, that we lose the harder we fight, the more victories we claim. Each man, woman, or child dead in Iraq raises two more against us. And not just in that country, but in the Muslim world.

Is it a sin to be venal? No. Is it a crime to be cowardly? No.

But don't you dare claim the bravery of those who rushed into a burning building to save strangers when you spent eight hours on a plane for fear; don't claim the warrior's right to defend this country and others after proving yourself afraid to risk your own life in a city under attack, after proving yourself afraid to address your nation for fear of losing your political career. And don't claim the glory of the slain if you plan to use their names to create worse holocausts, bigger and gorier senseless murders. Don't claim you reside in the house of God as you architect Satanic and evil works.



|
Wednesday, September 10, 2003
YAY! I WRITE COMEDY EVERYONE CAN ENJOY!
My last girlfriend asked me, "What's your biggest fantasy?"
Fellas, this is a trap. Because I decided to be honest with her.

I was like, "Actually my biggest fantasy, right, is I'm sitting on the couch watching the Mets game, and you come in and you sit down next to me, and you don't say anything.

"And then, for the next two hours you're just quiet and let me watch the game. And when it's over, you can talk about your feelings and crap."

And she's all yelling and upset, and I'm like "What's wrong?"

And she said, "No, I meant sexual fantasy."

I say, "I hate to break this to you, but you're my girlfriend. I'm alreayd having sex with you. I don't need to fantasize about it any more. You want to fulfill my sexual fantasies, turn into the cast of Charmed."

So I'm single, ladies...



|
Tuesday, September 09, 2003
THE 87 BILLION DOLLAR MAN
The President gave a speech in which he said he needed 87 billion dollars to fight the war that we won.

I think the problem is that he gets to ask Congress for the money. I think that the President should be forced to ask my parents for funding:

"Hey, uh, remember that thing with the Iraqis?"
"Yes?"
"Well, I, uh, kind of need more money."
"*sigh* How much do you need now?"
"Uh, eighty-seven billion dollars."
"What happened to all the money I gave you six months ago?"
"I spent it. It's not easy fighting the war on terrorism. You've got the army, the air force, all that travel - "
"Why can't you fight a war against Idaho? It's much closer."
"I can't, they're on our side."
"Sp?"
"So Saddam's the enemy."
"All right, call your father in here and we'll discuss it."



|
Monday, September 08, 2003
A SPECIAL MESSAGE FROM GRAY DAVIS
"We're gonne decide this election on Celebrity Boxing V!"
|
MY DOGS IS BARKING
I was dogsitting for a friend of mine, and she was telling me how well-trained he was. She was saying, "He's so well-trained, you just have to walk him three times a day to let him go to the bathroom."

And I'm like, the dog has you picking up his shit three times a day and you say he's well-trained? Sounds like he trained you about three seconds in to ownership.

TOTAL RECALL
Is Schwarzenegger still running for Governor.

That's more like a practical joke that keeps getting less and less funny the more it keeps getting pulled on you.

DID A SHOW IN CHINATOWN THIS WEEKEND
At a restaurant called Yello. A great crowd, mostly Asian. But one guy went on, hadn't been doing comedy more than a year or two, and at one point did a joke in a "funny" Asian voice, portraying a restaurant owner screaming "NO MSG! ESPN UPSTAIR!"

*Thud*



|
Wednesday, September 03, 2003
GOOD SPORT
Why do guys show up at sports games wearing the team's uniforms? Do they think they're going to end up in the game?
Do they think that the coach of the Jets is going to make a mistake and look in the stands and say, "What's Pennington doing in the stands? Put down that beer, wipe that green makeup off your face, and get in the game!"

That's actually every guy's fantasy, that the coach of the team is going to pull them into the game:
"Hmm, this is the last out of the World Series. What this team needs is a 50 year-old guy with a gut. If only there was someone already suited up..."



|
Tuesday, September 02, 2003
DOGGED OUT
I think that dogs are smarter than people give them credit for.

I was walking this dog that I was dogsitting, and I said, "Hey boy, you wanna go down by the river today?"

And it shot me a look that said, very clearly and articulately, "Hey asshole, you crazy or something? You're talking to a fucking dog! You seriously need to get out more."

It's true, by the way. Women will stop and talk to you when you're walking a dog. It's also true, however, that i have absolutely zero game and can't talk to women that well in a Hey-I'm-picking-you-up kind of way.

BREEDING IS FUNDAMENTAL
Of course, the dog was a Liberian Goatherding dog. A very rare breed; it was bred for herding goats which can be very tricky. It has a human equivalent IQ of 60; smart enough to herd goats, but still dumb enough to vote Republican.

Hey-oh!



|