Tuesday, May 31, 2005
Whatever You Say
I finally saw the new Star Wars. I have no opinion on it.

How awesome was that? That never happens. Wouldn't life be easier if more people met all artistic, political and social issues with a shrug?

Well, I do!

I'm very opinionless. Some call it spineless. I mean, usually I have a leaning one way or the other, but it's never strong enough to withstand a half-baked editorial. Really. If I read a Times editorial that eating babies born in February was a good thing, I'd be on board. No need to state your case. I already trust you, whoever you are. Pass the salt!

To play it safe, I rarely state my opinion before knowing which way the wind is blowing. If you pushed me, I'd say the new Star Wars was crap, but it had its moments. If you pushed me further to support this view, I'd change the subject to something we all can agree on, like the fact that some food that lacks nutritional value still tastes good. This is sort of my 'go to' subject when things get hairy.

"Hey, Josh. What do you think about this whole prisoners being tortured business?"

"I like pizza. Just wish it wasn't so greasy."

See. It's sooo easy.

In the rare times I do take a side on an issue, and someone calls me a jackass, I immediately retract my stand and say I was only kidding. This way, there's no conflict with this person, only a slight conflict within. And isn't inner conflict always better than outer conflict? It is. Unless you disagree. Then it isn't.

See. I keep winning and no hates me!

|
Monday, May 30, 2005
Guest Blogging for Liam again- Day One
Well, it's great to be back guest blogging while Liam is visiting L.A.

I hope he finds whatever it is he's looking for out there. (BTW, he's looking for tube socks. I told him he was crazy. I told him there's tube socks here, in New York. I pleaded with him to order them over the Internet if he must. It would save him so much unnecessary travel. He would have none of it and now he's gone.)

Today is Memorial Day, which in my village of Astoria, Queens is commemorated with a big street fair that offers everything the 99 cent stores on my street offer year round, but for a few dollars more. Yet, despite it's complete lack of bargains, novel products, or anything with even a trace of authenticity (Nikee?), the street fair is always packed- truly a groper's paradise.

I'm sitting out this year. Sure, I know. What about the funnel cake, the As-Seen-On-TV carpet cleaning demos, the tube socks? (HEAR THAT LIAM! TUBE SOCKS, RIGHT OUTSIDE MY FUCKING DOOR! YOU DIDN'T HAVE TO GO TO L.A. NO ONE GOES TO LA FOR TUBE SOCKS (ANYMORE) AND WHEN YOU ARRIVE AND TELL PEOPLE WHY YOU'VE COME, THEY WILL SURELY LAUGH YOU OUT OF TOWN!)

Sorry. The thrill of buying a $6 cup of lemonade because it's being sold on my corner which normally isn't the case has worn off. And the sound of the panflute? Well, that just brings me back to a different time and place that I can never really go back to.

It's sad. Has the street fair changed, or is it me who has changed?


**
Don't worry folks. I'll be warmed up and funny by midweek.

|
Friday, May 27, 2005
JUST A COUPLE OF PIECES OF BID'NESS
I'm holidaying next week; flying out to LA. If you're n the area, drop me a line and I'll let you buy me dinner (you're welcome!).
Since I can't guarantee that I'll have Internet access, my old buddy Josh Comers (whom some of you may remember as my fill-in when I went to England) will be posting all next week.
Before you celebrate Memorial Day by getting snockered, me and my friends got nominated for some Emerging Comics of NY awards. Please take a moment go to
this website
and vote for me and my friends. Thanks!
Below is a handy-dandy voters' guide:
Best Sketch Group
Elephant Larry
Best Standup (Female)
Erin Foley
Best Standup (Male)
Liam McEneaney
Best Comedic Duo
The O'Debra Twins
Best Improv Group
Mother
Best Musical Comedy Act
Jessica Delfino
Best Short Comedic Film

Che Guevera Zombie Theater (Kevin Maher's short film)
Best One Person Show
Weeping Softly Into My Beard (Todd Levin)
Best Director

Brian Finkelstein (directed my show)
Best Variety Show

Welcome To Our Week
Best Host of a Variety Show or Comedic Event
Todd Levin and Bob Powers - How to Kick People
Best Comedy Writer

Todd Levin
Best Comedic Website
girlsarepretty.com
Best Technician
Carter Edwards
Most f'ed up thing I saw this year
Victor "sock covered member"
Best Flyer
Weeping Softly Into My Beard
Best Venue
Parkside Lounge
|
Thursday, May 26, 2005
ON STAR TREK
They had this Opposite Universe where good is bad, and evil rules, and Mr. Spock wears a goatee.

I get the feeling that FOX News Channel reports the news from that Universe.

"The evil terrorists are blowing things up randomly. We're going to fight back by blowing other things up randomly! All hail Captain Bush!"

* * * * * *

Pregnant women are beautiful.

Too bad they're all so fat.

Yeah, you're eating for two? Is the other person an NFL linebacker?

* * * * * *

I like working from home. Because it saves me all this time I used to spend minimizing windows.

All that time I was wasting minimizing windows, I can now productively spend that time masturbating to Nerve.com personal ads.

* * * * * *

My friend "Freelings" is a door-to-door poet.
He offers Service with a Simile.

That just made me laugh out loud. So that means it's the greatest joke in the history of the world.

* * * * * * *

If Alyssa Milano never existed, would anyone ever use Photoshop?



|
Wednesday, May 25, 2005
WHAT YOUR CONVERSATIONS HAVE SOUNDED LIKE TO ME FOR THE PAST WEEK
Oh man, I just saw The Puppets vs. Robots Movie Part III, and it really betrayed the rich and culturally important Puppets vs. Robots legacy.

I mean, Puppets vs. Robots used to be my life, man. When I was a small child. Sure, the Puppets vs. Robots movies were famous for their wooden dialogue and ridiculously unbelieveable plotting, but in the new Puppets vs. Robots, the dialogue was extremely wooden and the plot was just ridiculous and unbelieveable.

The Robots in the original Puppets vs. Robots series were really evil and lifelike, and the Puppets were really human. But in the last Puppets vs. Robots, the Robots seemes just mechanical and robotic, and the Puppets were ridiculous. In fact, the Puppets were cartoons.

When I saw the original three Puppets vs. Robots, the worlds that George Puppetmaster created were realer to me than the real world I lived in. I mean, he created a Universe where puppets and robots interacted seamlessy and realistically. The fact that I was nine years old had nothing to do with it. The new Puppets vs. Robots don't even make me believe that these puppets and robots could ever meet and fight with their Magic Laser Swords.

And don't get me wrong - the Magic Laser Sword fight scenes are very cool. But that doesn't make a great movie. It only makes 50% of a great movie.

My childhood has been ruined retroactively. From now on, instead of having grown up in a relatively comfortable suburb, I grew up in a war-torn Third World village stricken with famine. No joke, that's how bad The Puppets vs. Robots Movie Part III was.

And don't even get me started on The Muppet vs. Robot scenes. Absurd. What a betrayal to my core values. I used to believe, and I mean really believe, that the Old Muppet Ninja was the fount of all wisdom in the Universe. But now, he must as well be just another ordinary Puppet.

After the last two Puppets vs. Robots, I was like, "I am done with Puppets vs. Robots . I am never giving any more of my hard-earned money to George Puppetmaster." But then, he came by my house and twisted my arm behind my back so hard my hand was clenching my own hair and dragged me out to the movie theatre with my girlfri - er - my male buddies - and made me buy a soda and a popcorn and then sit down and watch the Puppets vs. Robots movie.

And I hated it so much, I had to go back and see it two or three more times just to be sure how bad it was, that's how bad it was.

FUCK YOU, GEORGE PUPPETMASTER!!!!!!



|
Tuesday, May 24, 2005
I CAME UP WITH A NEW DRAG-QUEEN NAME
Sue Nami.
- She'll be the next big wave in entertainment.

I WAS AT MY FRIEND KAREN'S PLACE
And she had this "healthy" cereal called "Peanut Butter Panda Puffs Cereal."

I checked out the box, and the box has a warning: "May contain traces of peanuts."

My first thought was, "It better contain more than traces of peanuts."
I don't want to buy Peanut Butter Panda Puffs Cereal and be like, "Hmm, this tastes kinda like peanut butter. Actually, it's mostly butter. Hardly any peanuts at all."

Like, a better warning would be, "May contain traces of Panda."
Then you would say, "Jesus, for a Panda-based food, this isn't so bad. Almost tastes - no, that bite definitely had a hug amount of Panda."

I know, it's for peopl with peanut allergies (that can actually bequite fatal). But come on, if you're allergic to peanuts, are you really buying Peanut Butter Panda Puffs Cereal because it might not have peanuts in it?
"I just love to gamble."

The other thing on the box that caught my eye:
"NOT GENETICALLY ENGINEERED."

Well, no, it's cereal. Is there a genetically engineered -
Okay, Frankenberry. Frankenberry was stitched together from the corpses of the original Lucky Charms Leprechaun and two of the lesser Keebler Elves.

And, come to think of it, there's something unnatural about a walking, talking rabbit that can only survive on Trix.



|
Monday, May 23, 2005
THE SPAZZ SINGER
In case you're new to this blog, I'm from Queens, NY. In fact, I'm fourth generation Outer-Boroughs Trash. My great grand-parents owned a candy store on Bedford Avenue in Williamsburg, Brooklyn. Back when Williamsburg was a shtetl. The hippest shtetl in the United States.

It's weird whenever I have this conversation, which I have had about twenty times a year for the past ten years:
"Man, there's so much bridge-and-tunnel trash here tonight."
"Oh really? Where are you from?"
"Oh, I'm from Michigan originally."
"Oh yeah? And how many bridges and tunnels did you cross to get here? And also, how many bridges and tunnels will you have to cross again when you go fuck yourself?"

Not that mooks from Jersey or Brooklyn can't ruin a good vibe in a bar or a club. It's just that you have to earn the right to say so. And sweating out a temp job for five years to live with a roommate in the East Village doesn't give you that right, sorry.

Also, if you live in Williamsburg Brooklyn or Park Slope Brooklyn, or Astoria Queens, guess what? You're bridge-and-tunnel. Even if you're a found-object artist with a Master's in Medievel Philosophy!

* * * * * *

Those grandparents, my grandfather's parents on my mother's side, were Jewish. There's a fun story about my grandfather, a die-hard Dodgers fan growing up, asking one ofthe team's leaders - I can't remember his name offhand, not because I'm tryingto protect him, but because I havea terrible memory for sports trivia Perhaps, if my mother reads this she can refresh my memory (e-mail me privately).

Anyway, my grandfather asked this man for his autograph, and the great athlete looked at him and snarled, "Why don't you ask you rabbi for his autograph?"

After that, my grandfather was a Yankee fan. So much for Walter O'Malley robbing the borough of its storied athletic traditions.

* * * * * *

My other great-grandfather on my grandmother's side was a tailor, born in Manhattan's chic and glamourous Lower East Side. Luckily, he was about eighty years too early to interrupt a trustafarian's performance art piece about how hard the government is on people who want to take the hundred grand a month they get from their dead grandparents and dance in a bar all night (this is, more or less, an actual show that I managed to avoid seeing).

I now have his old Singer sewing machine, a huge metal foot pedal-activated contraption that has a wooden cabinet. It makes a great desk for me to write on. In a way, I can actually feel my great-grandparents watching over my shoulder and quietly commenting, "This he thinks is funny? Such jokes about shocking things like sex? And coffee? And his own poor mother, even. Why can't such a smart boy go into accounting? Now there's a career!"



|
Friday, May 20, 2005
ONE MORE CHANCE TO SEE THIS SHOW!
Liam & Claudia in:



Siddown & Shaddup!

Monday, May 23rd!
The PIT Theatre
154 W. 29th St. (above Subway)
9:30pm * $5.00
Liam McEneaney & Claudia Cogan invite you to Siddown & Shaddup! in a new sketch comedy show about such alarmingly hilarious subjects as pie-eating contests, dead puppies, unethical psychiatrist relationships, and the quest for the right cell phone carrier.
They know what you want. So just follow orders.
Also starring: Andres DuBouchet
Directed by Brian Finklestein
and stay afterwards for The Stanley Project, an improvised documentary show.
PS: For everyone who's already come out, thanks!
|
Thursday, May 19, 2005
A SALE OF TWO TITTIES - O! PRICELESS WIT!
It's odd when your separate social worlds collide in unexpected ways. One of the nice things about living all the hell the way in the middle of Queens is that when I'm done with comedy for the evening and get on the subway from Manhattan, it's almost like I'm taking a rocket shuttle to another planet; a quiet planet, an almost-suburban planet, where late-night noise is unknown, and where my crazy friends can't find me.

And don't get me wrong, I love my crazy performer friends. One of the dearest women I know is the Saint Reverend Jen. Now, St. Rev. Jen was annointed a Reverend by the Church of the Shady-Mail-Order Ministry of St. Usebius, the Draft-Dodger.

I haven't checked with the Vatican, but I do believe that the Sainthood was self-annointed. When people first meet Jen, their first question for me as soon as she's out of shot is invariably "What's with the Spock ears?"

Those aren't Spock ears, those are elf ears. Rev. Jen is an elf. Not thinks she's an elf, is an elf. She says she was born an elf and raised by humans, and do I know enough to argue? She is a twee little woman with straight brown hair, a crooked grin, and elf ears. The effect is wholly disarming and charming, especially in the downtown performance art open-mic scene, where she is, in all honesty, one of the most stable personalities.

She curates a Troll museum in her apartment. That's a museum of those little fright-wigged Troll dolls, right in her apartment. She knows their history. She can tell you what sort of model and make a particular Troll doll is. She hosts an open mic. She's a columnist for Nerve.com, the website of erotica and last-ditch personal ad dating.

The downtown performance art open mic scene is so chock-a-block full of bizarre and disturbing personalities - my first time ever on stage doing stand-up comedy came at the tail end of an anything-goes open mic at a now-defunct Lower East Side theatre called Surf Reality, where I followed a perfomance artist, a performance artist who had been pointed out to me as someone worth watching because the week before her piece had involved pulling an onion out of her vagina, and so I followed this woman's piece which had her pulling down her panties, scooping menstrual blood out of herself, and painting a picture of a dick with it, and remember this was my first time ever doing stand-up comedy - a scene so chock-a-block full of bizarre and disturbing personalities that a self-annointed saint with elf ears is a bedrock of sanity. Truly.

As I've undoubtedly mentioned in these pages, I live in the Queens neighborhood I grew up in; it's your typical working-class family-friendly neighborhood. There's two malls, a church, a synagogue, a Sears, a wide array of restaurants and supermarkets, a library, an Applebee's, a Sizzler, an elementary school, and a block away from that - two strip clubs.

One of the strip clubs is Dr. Claw's*. I've actually been there once, when I was about 17, and had thirty dollars and a couple hours to kill. I've never been back. Beleive it orn ot (and you will not; no one ever does), but the biggest impression made on me wasn't by the dancing ladies, although one guy near the main stage was so impressed with a particularly made-in-Detroit stripper (she had a large and solid, American-built chassis) that at one point he sprayed dollar bills at her from his seat like a volcano. This was a young woman whom, the DJ informed us, was willing to go back to a private room if the price was right.

No, the thing that made the biggest impression on me was the lights; the constant strobing, flashing lights. I felt completely disoriented. I realized that that was probably completely the point, that this whole club was designed to be the crowbar that pries the money from yor wallet.

A young woman came up to the table where I sat alone, and offered me a free lap-dance. I declined politely. When she repeated the offer, I was firmer in my refusal.
She seemed completely incredulous, although my thinking was: a woman who works at a strip club called "Dr. Claw's*" is not doing so because there were too many colunteers at the local soup kitchen. No one offers you a lap-dance as a charity case.

I did allow a woman to sell me a table dance, which made me feel awkward - in a bar crowded horny guys, a lady who could barely contain her distaste for me shaking her end result of a broken childhood in my general direction was not what I needed to make me feel completely at ease. I couldn't wait for the generic '80s hair metal tune she was dancing to to end.

When it finally did (and I may be the only guy in history who felt his table-dance was agonizingly, almost back-breakingly endless), I opened my wallet to pay. Now, I didn't know that these things were all uniformly priced. For some reason I just assumed that it worked like a tip at a restaurant - the better the service, the more you decided to give out of the goodness of your heart.

So when I offered her six dollars, not only did she curl her lip at the insult, but she simultaneously used the other side of her mouth to sneer - twenty dollars is what she demanded. Twenty dollars for that which can only be described as a farce of a table-dance. I was outraged that she would demand so princely a sum!

Then I did some quick mental math, adding up the number of muscle-bound bouncers I had working for me (none) vs. the number she had working for her (more than none). I paid the twenty dollars. However, I did give her a quick "notes" session, gave her a brief yet in-depth critique of her technique. Okay, no I didn't.

That's not the strip club I wanted to tell you about.

The other friendly neighborhood strip club is Squirmy*. Trust me, I know that's not a funny strip club name. The real name of the actual strip club is actually quite hilarious, and people laugh in disbelief when they hear it. When I tell them that, no, that's the real name of an actual strip club, they then laugh at the sheer folly of it all.

Squirmy is built over the neighborhood subway stop. One night I was coming home at 3am, and the sound system was so loud that it boomed through the staircase, and I could hear the DJ announce: "ATTENTION FELLAS, IF YOU DON'T TIP, SHE DON'T STRIP."
The other night, I came home to find a muscle-bound guido entering the front door, with his girlfriend standing outside, crying, repeating, "I'm not going in there. I'm not going in there." At first I felt sad for her, and then I thought, "Well hell, she doesn't have to go in there. In fact, she should leave." Then I punched her in the mouth and told her not to be so stupid. I just respect women.

I guess business is hard for this strip club. It's a full-nude strip, which means the fellas can ogle as much of the ladies as their hearts deisre. But because it's full-nude, as opposed to topless, no alcoholic beverages may be served. No beer, no wine, no mixed spirits. Just coffee, soda, juice.

The reason I say business must be hard for this strip club is they did what all desperate, last-ditch bars do when things are slow - they brought stand-up comedy in. There's a front foyer on the way into the club, and a stage was set up with a mic and speakers. I agreed to do a set there because, well, because it was a block away from home.

Now, let's try to paint a picture together of how depressing it was to perform on these shows.
* Okay, imagine performing in a dark, airless room.
* Now imagine you're performing to three, maybe five guys in the audience.
* Okay, now imagine that those five guys are clearly only enduring a two-hour comedy show so that they can feel better about coming to a strip club to ogle naked women and get them in the Champagne Room.
* Now imagine how awkward this situation is - and subtract alcohol from the equation.
* Okay. Now imagine that one of the walls of the room you're performing in is actually a curtain, behind which you can hear a constant stream of less masochistic fellas and their high-quality ladies walking into an all-nude strip club.
* Now, imagine you're wondering what someone like you with an actual TV credit is doing there, standing onstage and attempting to do his act into a microphone.

One of the "perks" of doing this show was that I got to go into the showroom after my set and check out what might be the most depressing scene on Earth. I mean, I find strip clubs kind of sad for their own reasons, but at least normally at thee places you can have a drink and try to feel comfortable. Here, it was just guys, lurking in the moral gloom, slightly pumped on coffee and horniness, trying to stare women over to where they sat.

Me, I left after about ten minutes.

Here's my point. This past Tuesday night, I'm walking down the stairs into the subway on my way to a show in the East Village, girding myself for a space shuttle voyage into the world of comedy. I see a familiar face making her wa up the stairs, and I say her name, "Reverend Jen!"

Reverend Jen sees me and smiles. I blurt out the only possible thing I can think when I see someoen who has betterp laces to be actually making her way into my neighborhood - "What are you doing here?"

She tells me she's going undercover as a dancer at Squirmy for her Nerve column. I won't tell the rest of that story, as I'm sure she'll tell it much better than I ever could. Suffice it to say, I promise to check in on her when I make it back to the neighborhood.

I make it back around midnight, and head into Squrmy. It's been many months since last I wlaked in, and now there's an abandoned stage with mic stage in the middle of the foyer. I make my way to the front desk, where a large muscle-bound Russian fella who, despite his silver hair looks like he could pull my arms off easily while idly pondering, "She loves me, She Loves me Not" stops me to search me.
I stammeringly explain that I'm just there to check up on my friend. Turns out she'd left way before her shift was done.

And that's really all there is to the story. Which is to say that, as all stories that involve human life, there are many more threads that weave in and out, and I am too tired to tell them all.


* - Strip club names changed to protect the innocent from having their typing fingers broken.



|
Wednesday, May 18, 2005
TODAY
This is the best you're gonna get for a blog entry, as I'll be running around and working hard.

Tomorrow, however, i've gota real good one, I promise.

All right, one joke, then I gotta go:
Knock Knock.
Who's there?
The electric company.
Electric company who?
Sir, you haven't paid your bill the last six months. We've come to turn off your power.
...
Sir?
Electric company who?
All right sir, I don't have time for games.
Electric company who?

AND SCENE



|
Tuesday, May 17, 2005
NOT GOOD ENOUGH FOR TV = GOOD ENOUGH FOR THE BLOGOSPHERE
If it's Tuesday, then it's time for another round of "Jokes That Didn't Make It On Best Week Ever."
Not to give too much away, but for this week's show I actually have a homework assignment; I have to watch the season finale of The Apprentice. Oh yeah, ladies, I am now officially that guy - I actually made an appointment on my calendar to stay at home and watch a TV show.
Ah well, it beats coal mining, I tell you that much. By the way, you heard that right - my high school guidance counselor sat me down in my junior year and gave me two choices - coal mining or comedy. And I never doubt the choice I made... more than three or four times a day. Um, okay, now I'm just rambling. Here:

Good Reasons...to watch Monster-in-Law
* You and your girlfriend have always fantasized about having sex in a movie theatre, and you had to pick one that was guaranteed to be empty.
* Until you recover from the brain surgery, you must see absolutely nothing that will stimulate it or cause any kind of intellectual activity whatsoever.
* You were Hitler in a past life, and your punishment is an eternity of J. Lo movies.
* You're a movie critic, and your editor hates you.
* You're Ted Turner, and you're not above gloating.
* The judge that sentenced you has very strict ideas about what "community service" entails.

* * * * *

Express Lane
1. TEXAS BAN ON OVERTLY SEXUAL CHEERLEADING: Texas lawmakers have passed a ban on overtly sexual cheerleading.
* In a related story, ESPN2 announced they will no longer be airing the Texas Cheerleading Competition State Finals.
* The bad news is, Texas lawmakers have passed a ban on overtly sexual cheerleading. The good news is, football players can still grab each others' asses all they want.

2. CLAY AIKEN'S MASTER CARD: Clay Aiken is getting a credit card named after him.
* Clay Aiken is getting a credit card named after him. I can't wait to pay for stuff with my "That Annoying Prick From American Idol" MasterCard.
* Clay Aiken is getting his own MasterCard. The ad slogan: "The card that's everywhere you wish it wouldn't show up so much."

3. WINE FOR WOMEN: A California vineyard is releasing a new wine targeted towards women, because it has a lower alcohol content.
In related news, Bill Cosby is also releasing a wine for women that already has a roofie slipped into it. Allegedly.

* * * * *

Paris Hilton, House of Wax
The new horror movie "House of Wax" is Paris Hilton's coming out party as an actress. After a few bit parts in film and TV, Paris Hilton has a big role in "House of Wax" and proves that SHE'S AN ACTING GENIUS! In the words of one astute interviewer, Paris Hilton has gone from heiress to actress. Bravo, Paris, bravo!
How do you feel about Paris finding her true calling as an actress? What are your thoughts and jokes?
* House of Wax is about completely inanimate plastic people with no thoughts or feelings. Some would call this a role – for Paris Hilton it's more of a way of life.
* I'm just glad that the world is finally sitting up and taking notice of Paris Hilton. I mean, she's been toiling in obscurity for so long, it's a relief to see a talent like hers finally getting the recognition it deserves.
* Finally, something to make Americans hate Paris the person more than they hate Paris, the French city.
* I have some sad news for Paris Hilton. You know all the nerdy, pale boys in high school you wouldn't even talk to? The ones you made fun of with your clique of popular friends? Well, they've all grown up to be movie critics, and they are ready to make you cry.

How would you describe Paris' style of acting? Can other actors learn from her "method"?
* Usually, a brilliant and animated performance like Paris' involves dialogue like:
(miming ventriloquism)
"You're a dummy. No you're a dummy. Ees a-right? Ees a-right!"
* I think her biggest acting breakthrough actually came right before she was cast, when she had to go, "Oh yes, yes, you may be a producer of B-List Horror movies, but you make love like a machine."
* Paris definitely follows the Method – the Rhythm Method! Hello! Was that even a joke in the sense that it made sense as humor?

How does this film compare to Paris' previous film, "One Night in Paris"? Is her acting more believable?
* How does this film compare to Paris' previous film, "One Night in Paris"? In House of Wax, the only thing hard to swallow is Paris Hilton's acting. By the way, Roger Ebert wrote that joke for me.
* In House of Wax, she screams while being stabbed with something large, but didn't have to do three lines of coke "just to get into it."
* The thing that House of Wax has in common with One Night in Paris – right after it's released, she's going to have to have a lawyer angrily deny that it's her in the movie.

Is a cheesy horror movie the perfect fit for Paris? What other sorts of movies would you like to see her in?
* I'd like to see her in a combination horror/homemade sex tape movie and call it An American Werewolf in Paris And Then All Over Her Face.
* I'd like to see Paris Hilton do a movie called Everyone Who Pays to Get Into This Movie Gets to Smack Paris Hilton in the Face At Least Once.

What Paris Hilton scenes do you think were cut from the movie?
I would like to see the scene in a restaurant in the West Village, and there's this woman who's spent four years in acting school and struggling to support herself as a waitress, and the camera focuses on the look on her face right when she finds out that Paris Hilton has a major lead in a movie.

Are you impressed by Paris' media savvy? Is she handling herself like a master thespian already? [NOTE: IN ALL OF PARIS' INTERVIEWS SHE GIVES REALLY SIMPLISTIC, OFTEN ONE WORD ANSWERS.]
Sure, you can make fun of Paris for giving one-syllable answers in interviews, but to be fair – she wasn't cast in this movie because of her ability to act interesting or say things into a camera.

* * * * *

Last week, the producers asked the panelists to come up with their own nominees for who had the Best Week Ever. Although they ended up not using my idea, that just means my blog-readers get world-premiere exclusivity!

This week, Guys Who Never Got a Date in High School are having the best week ever.
* Reason number 42 (LOL!): The Hitchhiker's Guide to the Galaxy movie came out (Don't Panic! LOL!) and it was the number one movie in America. Or should I say, the Number 42 movie (LOL! ;-) DON'T FORGET YOUR TOWEL! LOL!

* The new Star Wars movie is coming out, and early reports indicate that it's - well, it's bad, but not as bad as the first two. Which means it's almost good. Which means it's going to kick ass! Yeah, this time I'm totally not setting myself up for disappointment!

* Wilco just spent four days in Chicago recording a DVD. Finally, I can watch Jeff Tweedy sing "How to Fight Loneliness" in the privacy of my own apartment, face-down in the privacy of my own tear-stained pillow.

* Batman Begins - the Batman origins movie - is hitting the big screen soon. Because the first five minutes of the original Batman movie didn't do adequate justice to the complex layers of allegory and metaphor in a comic book about a guy who dresses in a skintight rubber outfit and cruises the streets at night for rough trade.
* This might be Liam Neeson's best comic book movie work since "Darkman."

* That girl Tiffany, the one who laughed when I asked her out to the prom? I heard a rumor that she's fat, lives in a trailer, and has like seven kids. And I'm on cable tv!

* I just bought Wild Things on DVD. Guess who's giving the "SloMo" button on his remote a workout!



|
Monday, May 16, 2005
LET'S TAKE A PEEK INTO MY LIFE, SHALL WE?


I WENT TO SHEA STADIUM ON FRIDAY
Got to watch the Mets beat the St. Louis Cardinals. Towards the end of the game, between innings, there was a trivia contest being conducted down in the stands somewhere. Not that I wasn't in the stands, just that I hadn't paid enough for my seats to be asked to participate in anything.

Anyhow, I don't know what the question or answer were, but I do know that the stadium announcer said, "Everyone who participated in the contest wins a trip to St. Louis in September to watch the Mets play the Cardinals!"

Wow, a free trip to St. Louis. I'm pretty sure that was the second prize - I think the grand prize is that you don't have to go.

"Oh - oh my God, what? A trip to - St. Louis? Are you serious? Wow, that's great because I was just about to book a vacation to see that tire fire out past the town dump. Now I can save myself some money! St. Louis in the Fall - I understand it's even better than Newark in the Spring! You know, I was going to just visit some underdeveloped third world country, but now I don't have to get a passport! And there's probably a cure for the diseases I'll pick up there!"

A free trip to St. Louis is usually what you win if you've really fucked up. Like, "I'm sorry Mr. Johnson, but you haven't paid your child support the last eighteen months. I'm sentencing you to three days in St. Louis."
"Honey, please tell our son that I'm doing time in prison, anything. Just spare him the shame!"

* * * * * * * *

THIS IS A TRUE STORY
I was flipping the channels tonight, and I came across a VH1 show all about the Hilton sisters, Nicky and Paris, and talking about how they wander from store to store in Beverly Hills, shopping, spending $3000 a visit on bags, thousands more on shirts, shoes, you name it, all things they wear/use once and never touch again. And the show went on to profile all these rich people, and how much money they just waste on this consumer garbage.

And I was thinking, "Never in the history of the world has the rich caste not only acknowledged the immense gulf between the way they live and the way the poor live, but reveled in it and rubbed an entire country's nose in it. Just crowed about all the money they throw around, while the poor get poorer, when so many children live uninsured, when pension plans are yanked form the working class. How can it be that the poor of the US haven't already taken up arms against people like the Hilton sisters, that this country is not already engulfed in a bloody Revolution that would make France of 1789 look like Switzerland of 1963?"

Then I turned over to some reality show on MTV, and suddenly I didn't care anymore.



|
Saturday, May 14, 2005
I REALIZE THAT THIS IS A HOAX
But it's still my favorite news story of the year:


Lion Mutilates 42 Midgets in Cambodian Ring-Fight
Spectators cheered as entire Cambodian Midget Fighting League squared off against African Lion

Tickets had been sold-out three weeks before the much anticipated fight, which took place in the city of Kâmpóng Chhnãng.

The fight was slated when an angry fan contested Yang Sihamoni, President of the CMFL, claiming that one lion could defeat his entire league of 42 fighters.

Sihamoni takes great pride in the league he helped create, as was conveyed in his recent advertising campaign for the CMFL that stated his midgets will "... take on anything; man, beast, or machine."

This campaign is believed to be what sparked the undisclosed fan to challenge the entire league to fight a lion; a challenge that Sihamoni readily accepted.

An African Lion (Panthera Leo) was shipped to centrally located Kâmpóng Chhnãng especially for the event, which took place last Saturday, April 30, 2005 in the city's coliseum.

The Cambodian Government allowed the fight to take place, under the condition that they receive a 50% commission on each ticket sold, and that no cameras would be allowed in the arena.

The fight was called in only 12 minutes, after which 28 fighters were declared dead, while the other 14 suffered severe injuries including broken bones and lost limbs, rendering them unable to fight back.

Sihamoni was quoted before the fight stating that he felt since his fighters out-numbered the lion 42 to 1, that they "… could out-wit and out-muscle [it]."

Unfortunately, he was wrong.



|
Friday, May 13, 2005
YIKES
I'm not posting anything today, because my allergies are kicking my ass. Last night, I was riding the subway, constantly blowing my nose, sniffling, and tears streaming out of one eye. I realized it looked like I was crying, like I'd just had my lunch money stolen, or my shiny new top had been stolen.

Needless to say, not only don't I want to think of anything funny today, I don't even want to be awake and breathing.

So I'm gonna punk out on this post today, and promise to come back Monday with something hilario - er - different.

However, I will say that in honor of today being Friday the 13th, I'm going to kill a bunch of campers in the woods, hopefully just as they're about to have sex.



|
Thursday, May 12, 2005
SWM ISO TV
The new season of Best Week Ever starts this Friday. Here are a few jokes from the past few months that never made it to air. Enjoy:

Beauty Shop
In the new film" Beauty Shop" Mena Suvari and Alicia Silverstone are portrayed as sass-less white girls. This is just the latest example of Hollywood's stereotyping white actors. The Mainstream media has no use for white actors unless they're playing buffoons and honkeys.

Why are white people always portrayed as buffoons in black movies? Why is Hollywood so unfair to the white artists?
* White people are always treated badly in black movies. It's almost like Black People are mad at us about something. Hey Black America, don't be so passive-aggressive – if we did something to make you mad, let us know!
* White people have given so much to America – smallpox, slavery, ecological ruin. But are we ever given credit? No.
* Every great movie in the last ten years has had negative white stereotypes. Great cinematic achievements like "Soul Plane," "Scary Movie 2," and "Booty Call." "Booty Call" was black America's "Triumph of the Will."

What are some other recent examples of whitesploitation cinema?
* Tom Cruise makes white people look all intelligent, attractive, and articulate, when the reality behind the stereotype is that most of White America watches Blue Collar TV.

How does it make you feel to see movies like "Beauty Shop" stereotyping talented actresses like Alicia Silverstone and Mena Suveri?
* Whenever Alicia Silverstone gets cast in a movie like this, it sends the wrong message. And that message is that Alicia Silverstone is an actress.
* Kevin Bacon plays such a glaring gay European stereotype, it almost makes you forget the movie's true message: "Women are a bunch of gossipy old bags only concerned about their looks."

Many white actors have complained that there aren't any good roles for white actors in movies. Do you have any personal experience with that?
* I've been overlooked for an NAACP Image Award so many times. I mean, what has Will Smith got that I haven't got?
* There just aren't any rich, challenging roles for white actors any more. You know, great roles like "Earnest" in Earnest Goes to Camp, or "Earnest" in Earnest Goes to Jail, or even "Earnest" in Earnest Saves Christmas. I went to see The Importance of Being Earnest last year, and the guy playing "Earnest" – well, let's just say he was no Jim Varney.

* * * * *

Good Reasons...to watch Wrestlemania:
* Wrestlemania's the disease - and the only cure is a GED.
* All the acrobatics among sweaty half-dressed musclemen – it's like ballet for the openly gay.
* Anything to keep The Iron Sheik off the streets.
* The violence, the screaming, the insanity – the fans in the stands are a better show than the guys in the Ring.
* It's what J.D. Salinger and I like to do when we hang.
* Wrestlemania's going Hollywood! No more of those small, gritty, independent fights.
* Vince McMahon gives us so much, and asks for so little in return.
* It's the only sports league that's been bitch-smacked by the World Wildlife Federation.
* I hear Triple H is really worked up about something. A fight might break out.
* Forget Wrestlemania, I've got SpandexMania!


* * * * *

Michael Jackson Trial Re-Enactments on E!
The media is abuzz about the Michael Jackson trial. Because cameras aren't allowed in the courtroom, we don't get footage of the historic event. But thanks to E! Television, we do get re-enactments, starring Ed Moss as The King of Pop. (Moss has appeared as Jackson in Scary Movie 3, The Steve Harvey Show, and he had a 4 year Michael Jackson Live show at the Horizons Casino in Lake Tahoe.)

* The good news is, when it's time for Liz Taylor to take the stand, E! can probably afford to get Liz Taylor to portray her.
* This is the most humiliating thing to happen to the Jackson family since last Tuesday.
* The saddest part – they just hired Emmanuelle Lewis to play Bubbles.

* The guy playing Michael Jackson was in Scary Movie 3, The Steve Harvey Show, and he had a 4-year run at the Horizons Casino in Lake Tahoe. It's a bad sign for Michael Jackson that his impersonator has a better career than he does.
* I think they're going to have to get someone a lot whiter to play Michael Jackson. Like Powder, that magical albino guy.

Can we expect to see more dramatizations of historic trials? Which ones?
* I can't wait until E! sinks its teeth into Marbury v. Madison. As a professional John Marshall impersonator, this might be my big break.
* Bush v. Gore – get ready to root for the bad guy.



|
Wednesday, May 11, 2005
BREAK A LEG! (AND THEN GET IT CAST!)
Last year, there was a sketch comedy show called "50-in-50" - fifty sketches in fifty minutes. My friend Claudia Cogan and I did a scene called "Mail-Order Sketch Partner" - she played a crazy Russian bride I'd ordered from a catalogue to do "Who's On First?" with me. Good times.

A casting director was in the audience, and she called me the next day to audition for a new show that the Saturday Night Live production company was putting together for a brand-new satellite-only staton. If you've never done an SNL-style audition, they basically call you in and ask you to do your three best, zaniest characters.

Now, I was bemused by the idea that anyone would watch me onstage and decide that I have CA-RAZY characters running through my head, but I figured nothing from nothing is nothing - at the time I had a job doing market research over the phone, and I figured that the worst thing that could happen is that I don't get cast, and I go back to my shitty job.

Anyway, how hard could pulling three characters out of your ass be? I could impersonate a crazy Russian guy - do a half-ass accent, put some 'tude behind it, act like I just got off working out. Easy. Then for my second character, I could just make fun of this guy I knew, about whom I've been meaning to write a bit for years, who would always tell these stories about celebrities he'd met, although halfway through it would invariably become clear that he had actually met them when he was serving them drinks, for instance, or taking their dinner order.

My third character, I figured, would come divinely inspired to me.

Day of the audition. The casting director asks me into a small office with a camera, to improvise my three characters doing one-minute monologues on a subject of the casting director's choice.  First character - goes alright. I realize as I'm riffing that it's as much a rip-off of the character this woman saw Claudia do in our sketch. Yikes.  After a minute, she asks me to switch characters and topics. Then the gossipy head-waiter who name-drops people he doesn't really know.
That went better, although the woman pointed out that my character had talked about everything except the topic she'd just given me. Score again. She asked me to switch characters and topics again.

At this point. I realized that I had pretty much reached the limits of my acting ability, so for my third character I just started screaming incoherently at the top of my lungs, pounding my chest like a gorilla. I ran around the little office screaming, alternately flailing and pounding, jumped on a chair, jumped on a table, ran headfirst into a wall, all the time screaming like a wild beast with a spear in its back.

Ususally, peopel auditioning you, when they don't like you, have subtle ways of letting you know. Little remarks like "We'll give you a call," or, "Thanks, that's all we needed to see." Something like that. It's very very rare to leave them speechless. But the look of sheer and utter horror on that casting director's face...

Ah yes.   And oddly enough, I did not get a callback.



|
Tuesday, May 10, 2005
TITLE INCORPORATING TERRIBLE PLAY ON WORDS, LIKE "GO PHISH" FOR INSTANCE
Here's an interesting fact -
If you drop three tabs of acid and listen to an entire Phish album, you can almost hear music. Try it some time and see.

* * * * *

I prefer monogamous relationships. Two or three at a time, if I can help it.

Although I do believe monogamous relationships are really good for some people.

Specifically, for the women I date, yes, they'd better be.

* * * * *

Poets talk a lot about love, but I don't know.

For every poet with a heartbreaking ballad on the everlasting nature of love, there's a really bitter poet's ex-girlfriend with a story about three thousand dollars she'll never see again.

* * * * *

I'm not scared by ghosts.
However, I am scared by people who believe in ghosts.

A spectral vision of a pale and unearthly creature with matted hair and dark-ringed eyes?
You're describing every other psychic I've ever met.



|
Monday, May 09, 2005
WHEN CELEBRITIES MEET
My sister took this picture of me a year-and-a-half ago outside the Dick Tracy Museum in Woodstock, Illinois.
As you can see, Ol' Dick was mighty impressed to meet me.
Oh, and don't forget about my show tonight (info below following post).
|
I WILL SAY
There is no smugger person on God's Green Earth than a gift n' card store owner at 10am on Mother's Day.

The other 364 days of the year, they're really humble and nice - "Oh, you want a silver Happy Birthday balloon? Of course. Just one? Okay, whatever you want sir."

But come 10am on Mother's Day: "Oh, well well well, look who stumbled in all hungover. You want a what? A Mother's Day card? Sure, just look in that section over there marked 'World's Worst Son.'

"What's that you say - can I recommend something? Sure, I would recommend you just admit to your mother that you don't deserve her love.

"Hey, if you don't like my attitude, I totally recommend you leave and find some place friendlier. Because there's a ton of stores open on a Sunday morning. Sure, why don't you just go on to Tiffany and buy your mother a present she'll like. Yeah, that's what I thought.

"Hey great choice - your mother will love a Garfield card. Yeah, I do have others - I just don't feel like unpacking all that stock back there. You can call me lazy under your breath sir, but I managed to find the thirty seconds required to pick out a card for my mom this week. Sure, that Garfield card - you're in luck. We have a Mother's Day special; only eighty bucks.

"'Too expensive'? Sure, just go to Rite Aid and pick up a Shoebox Greeting. Hope the line isn't too long.

"Okay, there you go sir. Have a nice day. Ahem. AHEM.

"Oh, nothing just clearing my throat. But since you're still here, I was just wondering - before you rush down the block and have brunch with your mom, you might want to - oh - sign the card. hey, just a suggestion. I mean, not signing the card also sends a message, although that message is usually, 'Hey check out this shitty last-minute card I almost didn't buy you.

"Borrow my pen? Borrow my pen. You want to borrow my pen? Ha ha ha ha ha hah ha. Ha ha. Ha ha ha.

"Oh, sorry, just thought of a really funny joke. Involved some thoughtless mother-hater wanting to borrow my pen. No. No, I don't lend out my pen.

"Akthough I do rent it out. Ten dollars an hour.

"I agree. It is way too much. Which is why I totally support your going out right now and finding a stationary store open on a Sunday morning.

"That's what I thought. Would you care for a free reading of 'The Story of the Ant and the Grasshopper' before you go? No? Fair enough.

"Same to you and your mother, sir. See you next year!"



|
Friday, May 06, 2005
YOU WILL COME TO THIS SHOW ON MONDAY, MAY 9th
Liam & Claudia in:



Siddown & Shaddup!
The PIT Theatre
154 W. 29th St. (above Subway)
9:30pm * $5.00
Liam McEneaney & Claudia Cogan invite you to Siddown & Shaddup! in a new sketch comedy show about such alarmingly hilarious subjects as pie-eating contests, mail-order brides, dead puppies, unethical psychiatrist relationships, and the quest for the right cell phone carrier.
They know what you want. So just follow orders.
Also starring: Andres DuBouchet
Directed by Brian Finklestein
and stay afterwards for The Stanley Project, an improvised documentary show.
|
PUPPIES ARE ADORABLE
and can make anything okay.
Like, if you were over at my apartment and saw a poster of Hitler on the wall, you'd be all like, "Hitler? What an evil monster. Boo."
But if you saw a poster of Hitler holding a delightful little dalmation puppy in his arms, you'd be like, "Hooray! What a wonderful puppy! Being held by an evil monster!"
So I was thinking that there's nothing to soften the blow of really bad news like an adorable puppy. And consequently, someone really smart (me) could make a ton of money designing greeting cards that give really bad news, but have the most adorable puppies on the front so that you can't really get mad.
FOR INSTANCE
The Front:
I'm your girlfriend now...
Inside:
...but three years ago, I was a dude!
SURPRISE!
* * * * *
The Front:
I'm positive...
Inside:
HIV positive!
SORRY!
* * * * *
The Front: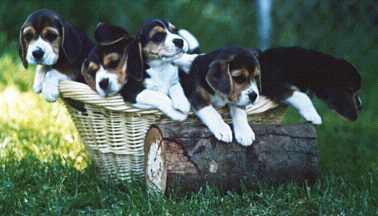 Inside:
My name isn't Pierre, it's Peter. And I don't have a French accent, just a cleft palate.
HAPPY BIRTHDAY!
* * * * *
The Front:
Inside:
I stole $8,000 from you and ran off to Antigua with your sister.
HAPPY ANNIVERSARY!
NOTE: This last one is customizable. Maybe you only stole $500 and ran off to Puerto Rico with her second cousin.
Or maybe you stole $25 and ran off to Staten Island with a hooker. It's up to you.
And of course - YOU'RE WELCOME.
|
Thursday, May 05, 2005
SO, HERE'S WHAT I WAS THINKING ABOUT
In school every morning, the teacher would always say "Good morning, class."
And then pause, and if no one said "Good morning" back, she'd announce, "I said, 'Good morning class'." And then the whole class would chant back, "Good morn-ing." For many of us, it was our first experience with sarcasm.

I was thinking that it would be funny if newscasters did the same thing:
"I'm Peter Jennings, good evening . . . I said 'Good evening,' America. I can wait just as long you can. Well, I know one democracy that doesn't want its world news, apparently. Okay, fine, I want this whole country to put their heads on their desks for the next - do I hear whispering? Who's whispering while I read the news?"

* * * * *

Sometimes I'll come up with a joke where the premise feels pretty solid, but the more I try to actually write it out, the stupider it gets. What follows is one such joke. Enjoy watching me basically give up on a halfway decent idea:

This is an interesting historical fact. The reason Thomas Jefferson wrote the Declaration of Independance and not Ben Franklin is that the Founding Fathers were afraid that Ben Franklin would insert too many jokes.

What would he have written?
"WHEN in the Course of human Events, it becomes necessary for one People to dissolve the Political Bands which have connected them with another -
But first, Knock Knock.
Who's there?
Not the redcoats any more."

or:

"There once was a mad king named George,
Whose wife was nicknamed 'Valley Forge.'
The Redcoats they came,
His wife did the same,
And his bastard prince sons are locked up in stor'ge."



|
Wednesday, May 04, 2005
I was telling you guys last week
about my poet friend, "Freelings" (because his "feelings" make him "free" - actually, it's "Murray," but Nuyorican Poets' Cafe girls don't talk to "Murray").

He writes epic heroic limericks. Eight hundred, nine hundred stanzas.
His "Ballad of a Man from Nantucket" won him a Pulitzer Prize.
Actually, it was a Pulitzer Honorable Mention - for A Nice Try In Literature.

He wrote a sequel to Robert Frost's "Road Not Taken," called "Goddammit, We're Lost! Where the Hell's My Goddamn Map!"

* * * * * *

I'd like to be rich and famous.
But when you become rich and famous, there's always the guys who used to know you back in the day, who always say, "He changed man. He used to be really cool and down-to-earth, but fame changed him."

I don't want that to happen to me. So I've decided that I'm going to change right now.

In fact, stop looking at me! You - reading this blog! Avert your eyes! You think you're my friend? Well, guess what? I'm hanging with Nicky and Paris at Bungalow 5 tonight and you can all kiss my ass. I mean, I'm not allowed inside, but I hang ten feet away from them. Through a wall. The wall's only five feet thick, so I'm like as near them as if I'm allowed inside.

I mean, screw you. My watch is worth more than your miserable little lives. And that should sting double, because my watch is a Timex. I've had three of you killed. Verbally.



|
Tuesday, May 03, 2005
THE HIPPY HIPPY SHAKE
plus a special bonus story
Hippies are so annoying, they almost make me pro-war.
I think I'm really just a Phish reunion tour away from going out and buying an SUV.

And yes, I am saying that owning an SUV is being pro-war.
You can either be against sending our young people out to the Middle East to die, or you can drive a car that gets 9 MPG, but sorry, can't have both.

Which is ironic, because a lot of pro-life bumper stickers are found on the backs of SUVs.

* * * * * *

I love the idea that people are hippies now, in the year 2005.
"Man, I'm going to go out and do my own thing and protest the establishment - exactly the same way my parents did forty years ago."

The thing is, forty years ago, hippies were really scary and freaked out the establishment.
Now, they're the counter-cultural equivalent of Renaissance Faire employees:
"Oh, look at those adorable young people, acting out those quaint customs from another time. And the way they talk. It's almost like I was back in the distant past, back when it was cool to smell like an old hog pit."

* * * * * * *

Quick story:
I was at a party, and talking to a woman about a mutual friend of ours also at the party. Let's call her "Deborah."

The woman I was talking to said, "Is Deborah pregnant?"

"Yes," I replied.

So the woman went over and congratulated Deborah on her pregnancy.

Two things:
1) Deborah was not pregnant.
2) If you want to pull a ha-larious joke like that on someone, you can either hang out and watch it unfold, or you can leave with all of your teeth intact.

(Okay, no that didn't really happen. I didn't have the balls to actually go through with it. But I'm trying to turn the idea into a joke.)



|
Monday, May 02, 2005
HEY LADIES
Todd Levin took this delightful picture of Liam (on the left) with his friend Eddie Pepitone. Why yes, they are both single - why do you ask?
|
HEAVY-DUTY PETTING
I was hanging out in a pet store last weekend with my friend Susie - because that's how we roll - and I came across the greatest magazine ever: HAMSTER Monthly.

It's the magazine that allows kids the chance to combine a love of reading with a hatred of ever being popular.

And the cover story was: "TEN REASONS WHY HAMSTERS ARE AWESOME!"

Okay, I have a few questions:
1) If you're paying $6.95 for an issue of HAMSTER Monthly, are you really someone who needs to be convinced that hamsters are awesome?

2) Are there any casual readers of HAMSTER Monthly - who - well, are there any casual readers of HAMSTER Monthly?

3) And if there are, are they reading this magazine going, "Hamsters are terrible, terrible pets. After that expose in GERBIL Review of Literature, I'm giving HAMSTER Monthly just one chance to - oh my lord, number 6 - they're cuddle-licious! Well, HAMSTER Monthly has certainly changed my mind about whether or not these pets are awesome."

Another good cover story for HAMSTER Monthly's crack staff of journalists: "Oh Dear God, Where Did My Life Go Wrong."
Or, "4 Years of Journalism School + 1 Problem with Alcohol = I'm Stuck Covering the Westminster Gerbil Show."

HAMSTER Monthly is actually from the same publisher as Scary Loner Digest, Elderly Shut-In Weekly, and HamsterFuckers.

I was a little disappointed with HAMSTER Monthly, to be honest. I was kind of hoping it was a magazine actually for hamsters, and that it would have articles like:
"20 Delicious Recipes for Eating Your Own Young"
"So You Have Three Legs"
"That Darn Parrot! Why Does He Get the Good Cage??!!!"



|